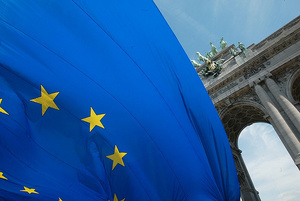 Google has reached a settlement with the European Commission that includes commitments to change its business practices, avoiding a potentially massive fine.
The case traces back to initial complaints made in November 2010 with the European Commission - the main regulatory body of the single European market - that questioned several aspects of Google's search and advertising business practices. The Commission wound up investigating eighteen formal complaints against the web giant, and in March 2013 informed Google that it was violating anti-trust rules in the European Economic Area, based on Article 102 of the Treaty on the Functioning of the European Union.

These infringing practices included the prominent placement of Google's own specialized search services in its general search results. Consumers were not made aware that these services were also owned by Google, while specialized search services (restaurants, hotels etc.) of third parties were typically displayed lower in search results. Google was also found to be using original content from third party services without consent.

The Commission also scrutinized Google's advertising service restrictions and contractual obligations that forced content publishers to obtain all or most of their online search advertisements from Google, while also limiting the transferability of online search advertising campaigns to rival platforms.

In response to the charges, Google offered concessions to the European Commission to settle the case and avoid a potentially enormous fine. Among these concessions were commitments to provide content publishers with a means to opt out of Google services without being 'punished' by other Google services. It also said it would scrap exclusivity requirements in agreements with publishers for the provision of search advertisements and scrap restrictions that limit the running of advertising campaigns on competing platforms.

The concessions were welcomed by the European Commission, but more was demanded from Google to settle the case.

The search giant has now added another commitment to display rival specialized search services whenever it displays its own in its general search results. Three rival services will be displayed, all chosen by an objective method. The change is applicable to Google's current search services and to future changes in services or layouts. Google's extra concessions satisfies the European Commission.

Compliance with these commitments throughout the European Economic Area will be supervised by an independent monitoring trustee for five years. Breaching the commitments offered in this settlement could allow the European Commission to impose a fine of up to 10 percent of Google's annual worldwide turnover.

Joaquín Almunia, Vice-President of the European Commission and Commissioner, said the concessions were sought with the interest of European consumers in mind, rather than just Google's competition.

"My mission is to protect competition to the benefit of consumers, not competitors. I believe that the new proposal obtained from Google after long and difficult talks can now address the Commission's concerns. Without preventing Google from improving its own services, it provides users with real choice between competing services presented in a comparable way; it is then up to them to choose the best alternative. This way, both Google and its rivals will be able and encouraged to innovate and improve their offerings. Turning this proposal into a legally binding obligation for Google would ensure that competitive conditions are both restored quickly and maintained over the next years."