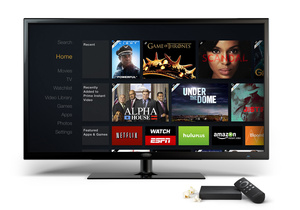 Amazon has unveiled its Fire TV set-top box that can deliver a lot of media from films, games, music and pictures to your living room over Wi-Fi.
The $99 tiny box packs quite a punch in its abilities. It can bring content from your favorite video streaming services - such as Netflix, Prime Instant Video, Hulu Plus, WatchESPN, SHOWTIME - to your HDTV. It can connect your living room TV to your favorite music services too, such as Pandora, TuneIn or iHearRadio, while also supporting services like YouTube.
For family photos and locally stored videos, you can easily stream them over the network to the big screen too.
"Tiny box, huge specs, tons of content, incredible price--people are going to love Fire TV,"
said Jeff Bezos, Amazon.com Founder and CEO.
"Voice search that actually works means no more typing on an alphabet grid. Our exclusive new ASAP feature predicts the shows you'll want to watch and gets them ready to stream instantly. And our open approach gives you not just Amazon Instant Video and Prime Instant Video, but also Netflix, Hulu Plus, and more. On Fire TV you can watch Alpha House and House of Cards."
Fire TV boasts
Voice Search
, which allows you to simply say the name of a film, an actor, a director, a TV show etc. in order to search for content. Overall, Amazon claims you can use Fire TV to watch over 200,000 TV episodes and movies, millions of songs and play hundreds of games.
Another feature is called
ASAP
, and it essentially makes predications about what you are likely to watch next and will even line up content, and begin pre-buffering without your input. No more waiting a period of time to start your videos.
Amazon Freetime is a feature that lets kids watch safely, with simple controls for screen limits and personalized profiles just for kids. You can create custom profiles for up to four kids, choosing the movies, TV shows, apps, and games they can access and easily set up daily screen limits and restrict certain types of content.
The Fire TV controller is sold separately but you can still control some games with the Fire TV remote control, and with the Fire TV mobile application which will be released soon. Gaming content will be available from EA, Disney, Gameloft, Ubisoft, Telltale, Mojang, 2K, and Sega.
Games available starting today include customer favorites like Minecraft, Monsters University, The Game of Life, The Walking Dead, NBA2K14, Asphalt 8, Riptide GP2, Despicable Me: Minion Rush, and more. Over 100 games are available starting today and optimized for Fire TV, with thousands of additional games coming next month with the Fire TV app, which brings controls for touch-enabled games.
These are great games for such a small box and at such surprisingly low prices--the average price of paid games is $1.85.
The wireless Bluetooth controller promises up to 55 hours battery life (2AA batties). Along with the typical features you would expect from a gaming controller - dual analog sticks, a D-pad and four action buttons - it also has media control buttons.
It weighs 9.8 ounces (277g) and measures 6.0" x 4.2" x 2.4".
Measuring 4.5" x 4.5" x 0.7", Fire TV weighs 9.9oz (281g). It packs a Qualcomm Snapdragon 8064 SoC - quad-core Qualcomm Krait 300 @ 1.7GHz and Qualcomm Adreno 320 dedicated GPU - and houses 2 GB LPDDR2 @ 533 MHZ. There is 8GB of internal storage and free cloud storage for Amazon content.
For connectivity, Fire TV supports the 802.11a/b/g/n standards and Bluetooth 4.0 (HID, HFP 1.6, SPP). Video is output through Type A HDMI 1.4b (HDCP) port which can produce 1080p images up to 60fps, while for audio there is a 5.5 mm DC Jack and Optical Audio (TOSLINK). There is one USB 2.0 port.
Content formats supported include H.263, H.264, MPEG4-SP and VC1 video, AAC, AC-3, E-AC-3, HE-A, PCM and MP3 audio and for pictures, JPEG and PNG images are supported natively.
Fire TV is available now from Amazon in the United States for $99 at
www.amazon.com/fire
. Eligible customers get a free 30-day trial of Netflix and Amazon Prime when they purchase Fire TV.
The Fire TV Controller is available from Amazon now for $39.99 at:
www.amazon.com/dp/B00DU0ZI8Q
.
Amazon Free Time Unlimited is an all-you-can-eat content subscription designed for kids ages 3 to 8 that brings together movies, TV shows, apps, and games that kids and parents love. Subscribers enjoy unlimited access to content from Nickelodeon, Sesame Street, PBS Kids, and more from just $2.99 per month.