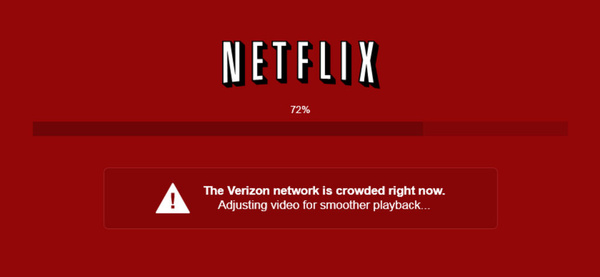 Netflix is set to stop serving customers with error messages that blame their ISP during video streaming problems.
Last week, Netflix and Verizon went toe-to-toe over error messages Netflix was showing to subscribers when they ran into streaming problems. The error messages essentially put the blame for the streaming problems on the ISP of the subscriber.
A screenshot was posted online showing one of the messages identifying Verizon's network as the source of the problem, which resulted in an angry backlash from Verizon and then a cease and desist letter demanding that Netflix stop.
Netflix will indeed stop serving the messages - on June 16.
"As part of this transparency campaign, we started a small scale test in early May that lets consumers know, while they're watching Netflix, that their experience is degraded due to a lack of capacity into their broadband provider's network,"
writes Netflix' Joris Evers.
"We are testing this across the U.S. wherever there is significant and persistent network congestion This test is scheduled to end on June 16. We will evaluate rolling it out more broadly."
Netflix: Internet Service Providers ARE the problem!
It doesn't look like Netflix took Verizon's threat too seriously. In fact, Evers goes on to make it clear that the problem is not with Netflix, but with the infrastructure of the "last mile" provider, the ISP.
"Some broadband providers argue that our actions, and not theirs, are causing a degraded Netflix experience. Netflix does not purposely select congested routes. We pay some of the world's largest transit networks to deliver Netflix video right to the front door of an ISP. Where the problem occurs is at that door -- the interconnection point -- when the broadband provider hasn't provided enough capacity to accommodate the traffic their customer requested."
He went on to accuse "some" large US ISPs of erecting toll booths by providing sufficient capacity ONLY when a service pays the toll. This is double-dipping, he argues, with the ISP receiving monthly subscription fees to be able to access Internet services and with those services also expected to pay for adequate access to the ISP's subscriber.
"The average Netflix stream is about 2 Mbps (with most streams ranging from 256Kbps to 5.8Mbps), a fraction of the bandwidth most consumers purchase from their broadband provider,"
Evers points out.