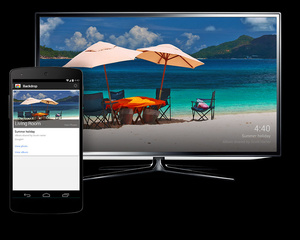 Google is now enabling Chromecast users to use their own photos or choose personalized sources of backdrops to be shown on the TV screen when idle.
The feature had been promised for summer but seemingly slipped a bit, but it is available now. It allows users to use their own photo albums via Google+, or to select from other options for backdrops when idle.
You can, for example, see artwork from galleries and museums around the world via the Google Cultural Institute, satellite imagery from remote places on Earth via Google Maps and U.S. users can get images from the New York Times, the Guardian and others.
Setting it up is as easy as opening the Chromecast app on your device and selecting Backdrop from the left menu. This allows you to customize your sources for imagery. You can also get more information on pictures you see by selecting "Backdrop" from the left menu and tapping on the card to find out more.
Alternatively you can open the Google app on Android or iOS, tap the microphone and ask
"What's on my Chromecast?"
The update is rolling out now.
More information:
chromecast.com/backdrop