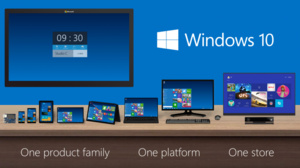 Microsoft is targeting a late summer, early fall release of the Windows 10 operating system, according to note from Kevin Turner at the Credit Suisse Technology Conference.
The Redmond giant previously said it would be releasing the updated operating system during the summer next year. According to the note from Turner, the RTM is likely to show up sometime in early Fall.
"The thing I want to tell you about on Windows 10 is in the Windows 10 timeframe, which we plan to talk about the end-user consumer experiences in the early spring, we'll have a developer preview and be able to talk to that in depth in the early summer timeframe. And then by next late summer and early fall we'll be able to bring out this particular OS. That's the current plan of record."
According to a Neowin source, Microsoft is targeting release for around August to coincide with the 20th anniversary of the release of the Windows 95 operating system on August 24, 1995.
Source:
Neowin