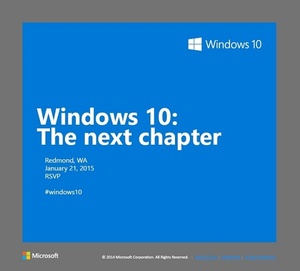 Microsoft has set a date to show off the consumer experience of Windows 10, ahead of its scheduled launch in Autumn 2015.
The Redmond giant has alerted media and Windows enthusiasts that it will hold an event at its campus on Wednesday, January 21 to show off the consumer side of its upcoming Windows 10 operating system.

Among those in attendance that we will hear from will be senior leaders from the Operating Systems Group including Terry Myerson, Joe Belfiore and Phil Spencer. Microsoft chief executive Satya Nadella will also show up to say some words.

The event will be broadcast live from the Redmond campus and details of a webcast will be provided in due time.

Windows 10 represents something of a reboot for Microsoft as it fights to recover from a disastrous Windows 8 era, and from declining interest in Windows Phone. It will also take another stab at gaining ground in smartphones and tablets, an area in which its competitors Apple and Google have dominated for years.

So set your reminders for January 21, and let's see what Microsoft has in store for us all next.