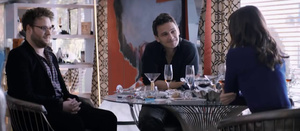 Following further leaks of data stolen from Sony Pictures, hackers have promised the studio that a Christmas gift is coming soon.
"We are preparing for you a Christmas gift," the Guardians of Peace (GoP)
said in a post
on Pastebin.
"The gift will be larger quantities of data. And it will be more interesting.The gift will surely give you much more pleasure and put Sony Pictures into the worst state. Please send an email titled by 'Merry Christmas' at the addresses below to tell us what you want in our Christmas gift."
The hackers are reportedly making a bunch of demands of Sony Pictures. As we previously reported, the group apparently demanded that Sony Pictures cancel the release of "The Interview", starring Seth Rogan and James Franco as journalists who are recruited by the CIA to assassinate North Korean leader Kim Jong un.
Sony is also attempting to
stop large media corporations from reporting on data from the leaked e-mails
, as some of the information disclosed has been of a particularly sensitive nature.