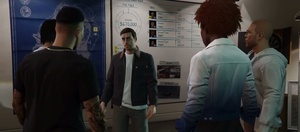 Grand Theft Auto 5 Online Heists have been known to be in the works for some time now, and today we finally have gotten a trailer to look at.
In Early 2015, players will be able to take part in four player heists online. The update will provide over 20 hours of additional gameplay and 20 total missions. The missions will require players of rank 12 or higher, and one will have to be a leader, according to GTA Online producer Imran Sarwar, who gave an interview about the update to IGN.
The leader will be required to have an apartment with enough room for a planning board, and will have to do a lot of prep work such as assembling a team and determining a plan and so on.
Alternatively, you can take on another role in the heist.
Read the
IGN interview here
, and view the trailer below.