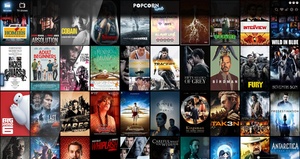 A court has ordered Internet Service Providers (ISPs) to block access to websites associated with the Popcorn Time software.
Popcorn Time (and its numerous forks) is a sort of dark rival to Netflix and other legitimate, licensed content streaming services. Essentially, Popcorn Time puts a simple interface over a BitTorrent backend. Once a user picks a movie to watch (and what resolution) it will torrent the content in the background and play it as it downloads.
Now, a UK court has decided that ISPs in the union must block access to five websites associated with Popcorn Time, including popcorntime.io, flixtor.me, popcorn-time.se, and isoplex.isohunt.to.
This order applies to Sky, TalkTalk, Virgin, BT and EE, who have previously been forced to block access to a large number of BitTorrent websites. The interesting difference in this case is those sites don't offer torrents or links to any pirated content, but instead offer downloads of Popcorn Time clients.
"It is manifest that the Popcorn Time application is used in order to watch pirated content on the internet and indeed it is also manifest that that is its purpose. No-one really uses Popcorn Time in order to watch lawfully available content,"
Judge Birss wrote
.
"The point of Popcorn Time is to infringe copyright. The Popcorn Time application has no legitimate purpose."