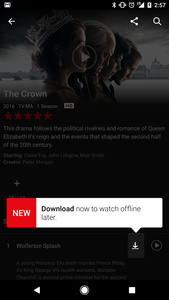 Netflix has finally enabled offline viewing for its millions of subscribers, allowing Films and TV shows to be downloaded at no extra cost.
It has been one of the most requested features from customers of the streaming giant for years, and finally Netflix has given in. Subscribers will now be able to download film and TV show video to their devices in order to view them offline when they don't have access to a reliable connection.

A download option will be present on the details page for film or a TV show, so you can just download it and watch it later on.

Initially, not all content will be available for download but plenty of popular options already are, including Orange is The New Black, Narcos and The Crown.

You need to update your Netflix app to the latest version to enable downloading. For now, the feature is available on iOS and Android platforms.