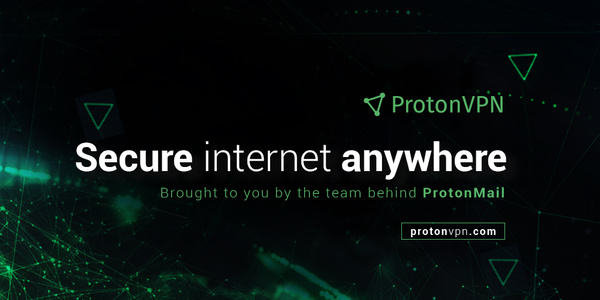 The ProtonMail team reveals a new free VPN service for everybody as it continues to make privacy and security an achievable goal for Internet users.
ProtonMail launched three years ago as the world's first publicly available end-to-end encrypted email service on the 25th anniversary of the web. The encrypted e-mail service was developed and launched through the efforts of scientists from CERN and MIT.
Citing the rollback of Obama-era Internet privacy rules in the United States, and the ongoing censorship experienced by over a billion Internet users worldwide, Proton Technologies has launched ProtonVPN. While there are paid options available, there is a permanent free tier also available.
Using the free service, a user's communications are routed through encrypted tunnels located in three countries, getting around most censorship and data monitoring efforts. The drawback is that the speed will be comparatively slow compared to the paid tiers, and is limited to use with only one device at a time.
A Basic plan for $4 per month ups it to 2 devices and improves speed, while a Plus plan for $8 per month bumps to 5 devices and offers the highest speed. The most expensive plan, the Visionary plan, allows for 10 devices and promises the highest speed.
An extra benefit of the Plus and Visionary plan is "Secure Core", which protects against the effects of the VPN service being compromised. It does this by first passing user traffic through the Secure Core network in certain countries, including Switzerland and Iceland, where there is strong legal protection for privacy. That way, even a compromised VPN endpoint cannot determine the original IP address.
ProtonVPN does not log user activity on its service, and therefore is unable to hand over usage information to any third party. It also uses strong encryption algorithms (AES-256) and protocols (OpenVPN).
For more information:
protonvpn.com