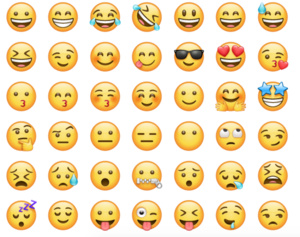 Facebook's WhatsApp has gotten around to pushing out the upgraded emoji set it showed off several weeks ago.
The new emojis are available starting with version 2.17.395 (stable) on Android. Whether they are better is entirely up to each user, but they do appear to be more "expressive" of emotion and several non-facial emojis look much better than before (e.g. the "mouse" emoji is now clearly a computer mouse!).

When WhatsApp pushed the new emoji set to the beta build earlier this month, they were immediately compared to several emojis used in Apple's iOS because some do bear a striking resemblance.

If emojis are your thing, the new set should be available as long as you have the latest WhatsApp version on your device. WhatsApp also recently announced the "delete for everyone" feature, which allows WhatsApp users to delete text messages they have sent to a recipient, as long as they do so within a seven minute window and all participants in the conversation have a version with the feature present.