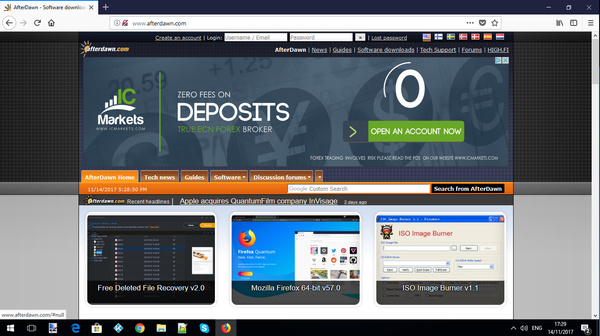 Mozilla has released Firefox Quantum across platforms with a new slick UI and an overhauled core engine, providing for a speedier and lighter experience.
It's twice as fast as Firefox from six months ago, or at least Mozilla claims, and when we tested it out we noticed significant improvements under the new Photon UI, including when switching between large numbers of open tabs. Browsing was also noticeable smoother. Quantum is also less of a memory hog.
The improved experience comes from a multitude of improvements under the hood, such as the new CSS engine, Stylo, that takes better advantage of today's hardware with multiple cores that are optimized for low power consumption.
Firefox has also changed the default search provider to Google in the United States and Canada. The decision was put down to a "focus on user experience and performance," but of course Firefox still comes with more than 60 search providers pre-installed, covering 90+ languages.
You can download
Mozilla Firefox v57.0
(
64-bit here
) from AfterDawn or the Mozilla homepage.
Here is a video covering the Firefox Quantum update: