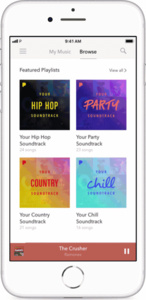 Pandora takes a leaf out of Spotify's book by introducing personalized soundtracks that are based on your listening tastes.
Personalized soundtracks are currently being tested with a small group of Premium users of the Pandora's services, but will roll out soon to all Premium subscribers. The playlists - similar to Spotify's Daily Mixes - will update every weeik to fit your moods, activities and favorite genres.

Pandora's personalized soundtracks are powered by its Music Genome.

"We apply a state-of-the-art ensemble of 75+ machine learning algorithms spanning bleeding-edge deep learning techniques, raw audio content analysis and collaborative filtering methods for listener preferences," writes Chris Phillips, Chief Product Officer, Pandora.

These new playlists will appear in the "Browse" section under "Featured Playlists" on the mobile app. The more you listen to differentiated music, the more playlists you'll get. Playlists can also be shared with friends who can check them out even if on Free tier service.