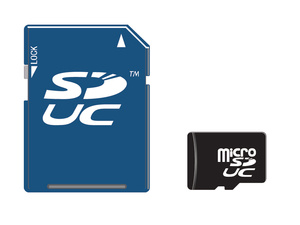 The SD Association revealed the new SD Express standard this week, which brings PCI Express and NVMe interfaces to the SD interface for dramatic speed improvements.
Adopting the PCIe interface pushes top transfer speed to a theoretical 985 MB/sec. In addition, new SD Ultra Capacity (SDUC) cards bump the existing storage capacity limit of 2TB, to an eyewatering 128TB. You shouldn't hold your breath for an affordable and practical 128TB card any time soon though.
Still, the SD Express upgrade is significant and good for data transfer intensive operations, like capturing super slow motion video, RAW continuous burst mode, 8K Video capture and playback, 360 degree cameras/videos and so forth.
"With SD Express we're offering an entirely new level of memory card with faster protocols turning cards into a removable SSD,"
said Hiroyuki Sakamoto, SDA president.
"SD 7.0 delivers revolutionary innovations to anticipate the needs of forthcoming devices and content rich and speed hungry applications."
The SD Association has released a white paper on SD Express:
SD Express Cards with PCIe and NVMe Interfaces
(PDF)