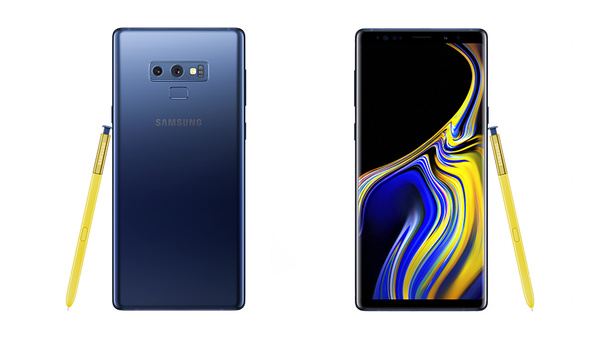 Samsung's Galaxy Note 9 beefs up the specs, improves camera performance and adds a smarter, connected S Pen.
The new Galaxy Note 9 delivers what Samsung says is "all-day performance" starting with the 4,000mAh battery (fast wireless charging supported), the largest ever on a flagship Galaxy phone. Under the hood is a 10nm processor (Snapdragon 845 or a Samsung Exynos, depending on location) and a Water Carbon Cooling system and on-device AI-based performance adjusting algorithm to deliver powerful yet stable performance.

It comes with two internal storage options; 128GB or 512GB. Taking into account the microSD slot, the Note 9 can offer up to a terabyte of storage if you include a 512GB card. The Note 9 sports a 6.4-inch end-to-end screen (2960x1440). When it comes to memory, the 128GB option comes with 6GB of RAM, while the 512GB kicks it up to 8GB.

Incorporated from the Galaxy S9 family are new stereo speakers a variable aperture f/1.5-2.4 12-megapixel primary camera, with an additional 12Mpxl camera on the back. New software AI features improve the quality of your photos too. The software can identify elements of a photo, such as scene and subject, to automatically classify it into one of 20 categories and instantly optimize it based on the category. It can also prompt the user to retake a photo if it detects blurry elements, or if a subject blinked, for example.



Perhaps the most note-worthy improvement is the new S Pen, which incorporates Bluetooth Low Energy (BLE) support. The connected S-Pen can now be used as a remote control for selfies or for giving presentations. It automatically recharges itself while popped into the device, of course.

With the new connected S Pen, Samsung touts the device's suitability for DeX, which turns a HDMI-connected monitor into a second screen complete with a windowed Desktop environment. DeX can be used as a way to watch your streaming media on a larger screen, or to carry out tasks like photo editing, word processing, building and giving presentations and so forth.

The new Samsung Galaxy Note 9 launches on August 24, available in Midnight Black, Lavender Purple, Metallic Copper with matching S Pen, and Ocean Blue with a Yellow S Pen.

Pricing will vary based on region and carrier subsidies, but in the United States, a non-contract Note 9 will set you back $1,000 for 128GB, or $1,250 for 512GB.