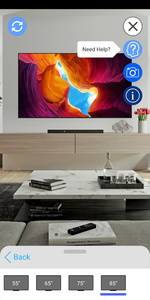 Sony has released an app that will help shoppers determine if televisions will fit comfortably in their living rooms.
The new Envision TV AR app lets potential buyers select a TV model and see how it will fit in a given space. All the user has to do is select a TV and point the phone's camera to view the TV in any space. It can show TVs mounted or on a stand.
Additionally, the app displays technical details including HDMI and other ports.
"As we continue to stay home, this app offers a new way for our customers to confidently purchase a Sony TV in the comfort of their living rooms,"
said Mike Fasulo, president, and chief operating officer of Sony Electronics North America.
"We hope this new technology takes the guesswork out of shopping online."
The Envision TV AR app can be downloaded for Android devices from the
Play Store
. It is also available from
Apple's App Store
for iOS devices.