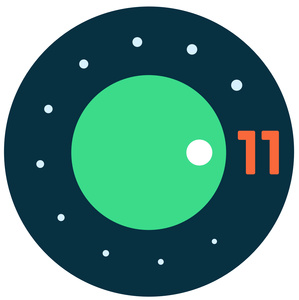 The eleventh major revamp of the Android mobile operating system was officially released this week, and here are new features at a glance.
Android 11 was released on September 8 without a release name of a popular dessert, since that practice was halted with Android 10. The new Android 11 logo accompanies this news item and references the film 'This is Spinal Tap' by depicting a dial turned up to 11.
Most of the changes for this iteration happened under the hood, affecting performance, 5G connectivity, security and so forth. Yet there are still revamps that will be very noticeable to users who upgrade when their device is eligible, or get Android 11 on a brand new device.
Here we will take a look at the primary feature changes:
Conversations Notifications
Notifications from all messaging apps such as the internal Messages app, WhatsApp, Messenger and so on, will be packed together in Android 11. This way your notifications for received messages will not be mixing in with "likes" or other kinds of notifications that pack the notification area.
Conversations can be marked as priority to make them more visible on screen, and also to bypass Do Not Disturb mode if it is activated.
Notifications history
Android 11 will retain all notifications history for the past 24 hours, allowing you to browse through notifications even if you have swiped them aside. Not only can this help you to retrieve something important you accidentally cleared, but it will also highlight nuisance apps that are simply sending too many notifications so you know which ones to silence.
Chat Bubbles
Chats can now be presented on screen in pop-up Bubbles that overlay apps. This means you don't have to swap between apps in order to read and reply to messages you receive. Bubbles is designed to replace the existing overlay permission which is due to be deprecated for security concerns. For example, it is used by certain types of malware.
Record your Screen
There may be a wide selection of apps available for Android that allow video recording of a phone's screen. With Android 11 you can forget the third-party applications since screen recording is built in. It will also record audio from your mic, device or both.
One Time Permissions
Android 11 will allow you to grant permissions to apps for single use only. For example, if an app asks for permissions for the microphone and camera, you can grant it only for a single use. If the app is run again later, it will require your permission again to gain access to those resources.
Furthermore, Android 11 will "auto-reset" permissions for your unused apps and notify you accordingly.
Schedule the Darkness
Dark Mode arrived for Android with Android 10. It is supported by many apps already, and with Android 11 you can schedule a Dark theme. For example, it can be set to activate automatically at night.
Other improvements include the relocation of smart devices to one place, which can be accessed with the power button. Media controls have been redesigned and Android 11 can quickly switch a media playback device.
See Also:
Android 11: What devices are getting the official upgrade?