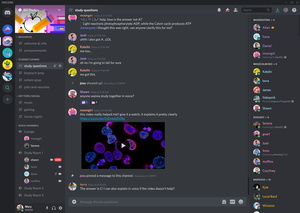 Social and messaging platform Discord is walking away from talks over a multi-billion dollar deal with Redmond-giant Microsoft.
Discord witnessed rapid growth last year as more people were staying at home as part of COVID-19 restrictions. The service enables users to gather in public or private channels to chat, post images and other media, and also to Direct Message each other.
Voice chat is also supported, as is the ability to share screens or camera feeds. Discord servers dedicated to a single topic (tv shows, sports teams, musical artists, video games, etc.) are very popular, and the company earns revenue by selling premium Nitro subscriptions at $9.99 per month, or $99.99 for the year.
Nitro members can "boost" servers to unlock extra features, and also have access to exclusive emojis and other benefits. In 2020, Discord reported revenue of over $130 million driven by Nitro subscriptions.
Microsoft has been looking to expand its web services in recent years. It scooped up video games outfit ZeniMax Media in a $7.5 billion deal last month. Additionally, it acquired Nuance Communications and its AI and speech recognition technology, for $16 billion this month.
However, these acquisitions came on the back of its public failure to buy TikTok almost a year ago.
According to
reports on the talks between Microsoft and Discord
, the latter will focus on building up its platform with an eye to a public listing eventually.