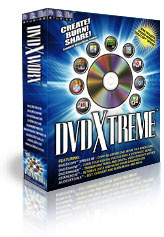 Despite losing the trial about the DVD decryption, the 321 Studios are still rolling out new products. Their latest product title
DVDXTREME
bundles a load of products into a single high value package.
The most complete digital media and CD/DVD burning suite on the market today! This comprehensive package contains all of the tools you will need to create, edit, organize, back up, burn, rescue and share your photos, data, music, movie and video files in just a few easy steps!
With award-winning utilities like AUDIOXTOOLS, DVDXCOPY XPRESS RF and DVDXSHOW, now you can get outstanding results first time, every time! Burn a music CD, back up DVD movies, or create an incredible photo movie and email it to friends…with DVDXTREME, it's simple and seamless…Now You Can!
DVDXTREME Software Suite:
DVDXCOPY XPRESS R-Make back up copies of your DVD movies
DVDXSHOW-Turn your digital photo collections into documentary style DVD movies
DVDXMAKER-Restore your old home videos by burning them to DVDs
IMAGEXRESCUE-Rescue deleted images from SD cards and Compact Flash cards
SNAPSHOTXPRESS-Edit your photos and remove redeye
BURNXPRESS-Burn CDs and DVDs
DVDXLABEL-Create labels for your CDs and DVDsAvailable now at: DVDXCopy.Com