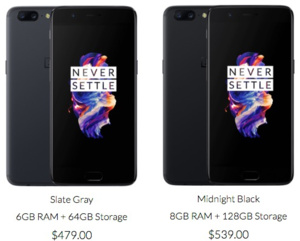 The Chinese smartphone manufacturer OnePlus has released a new flagship smartphone. Company that has grown hugely over the past couple of years brings the new iteration of OnePlus smartphone to the market.

This time around the phone seems to take a lot of hints from iPhone design as well as hardware but retains brings its own flavor to this new design. Featuring a double camera sensor in the back, curved antenna lines, and smooth rounded edges makes the phone look a lot similar to the iPhone 7 Plus but there are definitely differences.

The camera is said to be even better with not only more megapixels (20+16) but also with huge investments in terms of software. To showcase this OnePlus had a super popular model Emily Ratajkowski take six instagram pictures. The OnePlus 5 also features a 16 megapixel selfie shooter.

In terms of other specs there's nothing out of the ordinary. You have Snapdragon 835 which powers the likes of Galaxy S8, the trademark 5.5 inch Full HD Optic AMOLED display, fingerprint sensor in the home button, as well as huge amounts of RAM. Actually there are two versions, one with 6 gigs of RAM (and 64 gigs of storage) and one with massive 8 gigs of LPDDR4X RAM (and 128 gigs of storage).
Read more...
---