This article shows how to use ImgBurn to burn DVD folders (VIDEO_TS, AUDIO_TS) to blank DVD media. The resulting disc will be playable on pretty much all DVD players as long as the audio/video content meets standards. ImgBurn is a freeware utility that packs a punch or two.
Introduction & Requirements
Software you must download and install

ImgBurn
Required: You need to download and install ImgBurn on your computer. Download!
The ImgBurn installer is fairly straight-forward and so requires no instructions. Remember you will need blank DVD media (possibly dual-layer if your compilation is over 4.36GB). Remember, you must have a
VIDEO_TS
folder (often accompanied by an
AUDIO_TS
folder) for this to work properly. If you need to create a DVD, then check our
Guide section
for help.
ImgBurn First Run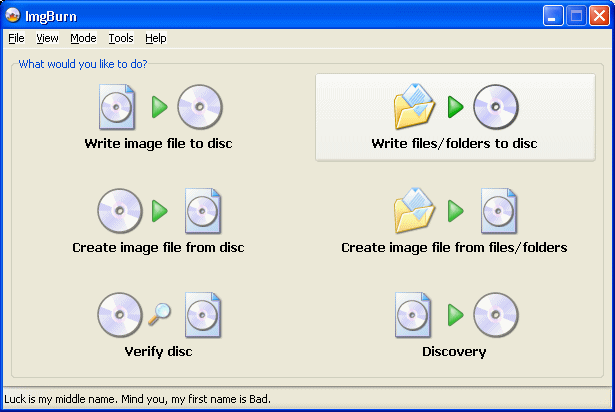 The first thing you will see when you launch
ImgBurn
is a start page. The including of this Welcome screen has made things much easier to understand for new users to the software. To enter
Build Mode
, click
Write files/folders to disc
.
ImgBurn Build Mode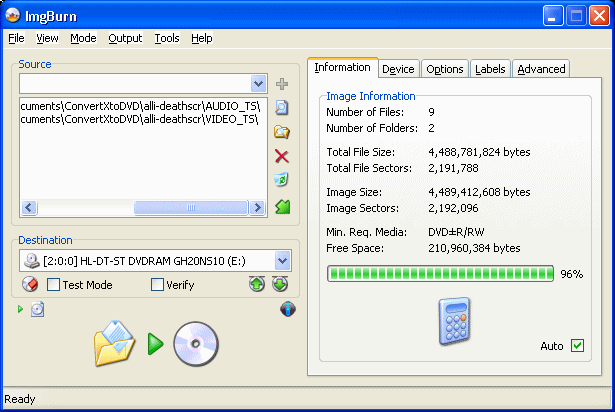 ImgBurn will now enter
Build Mode
, letting you add Files and Folders to the compilation. You now must add the DVD files to
ImgBurn
. Usually you will have a
VIDEO_TS
and
AUDIO_TS
folder. Simply drag and drop both folders into the ImgBurn Source box on the left side of the program. It should look like the picture above this text. (Note that for compatibility reasons, even if you only originally have a
VIDEO_TS
folder, create an
AUDIO_TS
folder and leave it blank, and add it to the compilation).
Also take note that the calculator on
ImgBurn
is set to work automatically, showing how much of your disc will be taken up by the files. If your
DVD
files are larger than 4.36GB, you are going to need to either use dual layer media or compress the DVD.
DVD more than 4.36GB? Need to compress?
Note:If you are burning a video DVD and your files are larger than 4.36GB, you either need more expensive dual-layer blank DVDs, or you need to compress your DVDs. For the quickest and easiest method, DVD Shrink comes to mind.
ImgBurn Device Tab Settings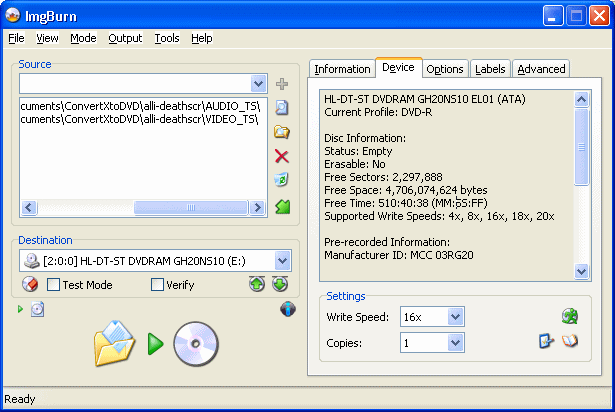 Under
Device
settings the noticeable changes that can be made are
Write Speed
and
Copies
, you can adjust these to whatever suits but keep the speed in line with what is reported as
"Supported Write Speeds"
above. If you are using
DVD+R
media now, you can increase compatibility with
DVD
hardware by changing the
BookType
if you have a compatible burner. If so, then click the book icon (the small icon on the lower right hand corner, across from the Copies field).
A new window will pop up.
Change BookType (Optional for DVD+R Media)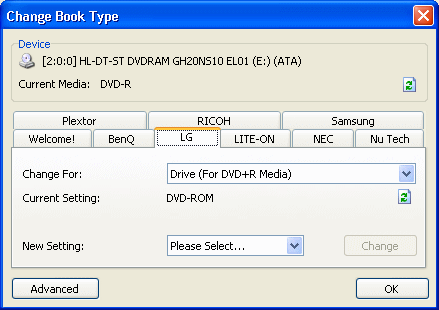 Select the manufacturer of your compatible burner. Mine is
LG
in the demonstration picture. As you can see, I have set
"Change For"
to
"Drive (For DVD+R Media)"
and changed new setting to
DVD-ROM
. This will make most DVD hardware more compatible with the disc and will almost eliminate the old problem of DVD hardware being incompatible with
DVD+R
media.
You will need to click
Change
. If the
BookType
setting is changed correctly, you will get a
"Success!"
message. Click
OK
. Click the
Options
tab now.
What is so important about Booktype?
Note:If you would like to know more about what exactly "Booktype" is and why it can be extremely useful, or even vital if burning media for games console for example, you can read a full article about it at AfterDawn.
ImgBurn Options Tab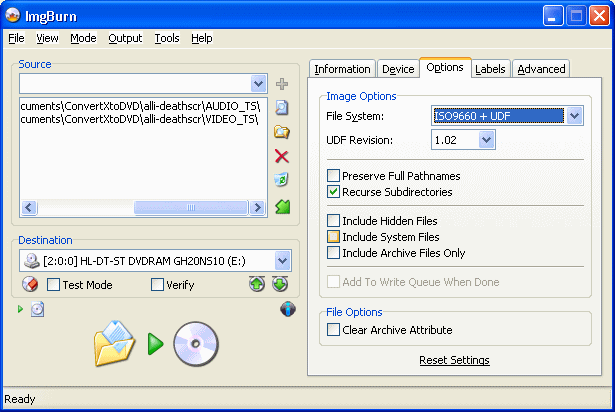 The important thing here is to make sure that
File System
is set to
ISO9660 + UDF
and tick
Recurse Subdirectories
. Now move on to the
Labels
tab.
ImgBurn Labels Settings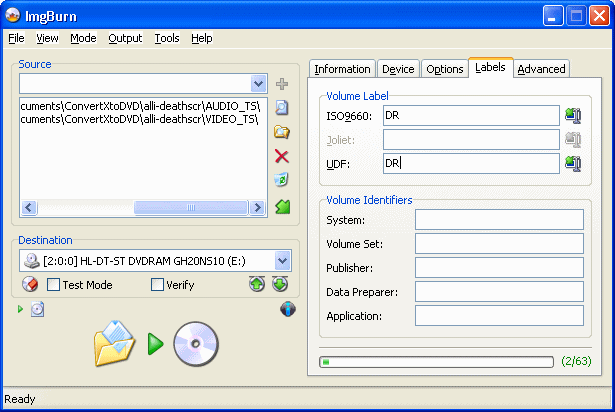 Give your
DVD
a name. I have set the
ISO9660
setting to
"DR"
and
UDF
to
"DR"
. You can fill in the rest of the
Volume Identifier
fields if you wish to do so but none of this is necessary.
ImgBurn Burning Process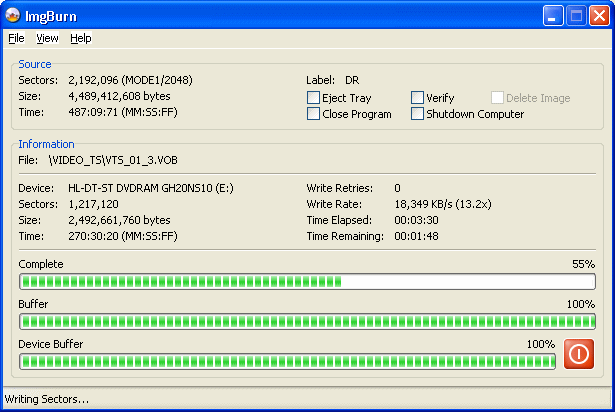 To start burning, click the
Burn
button (the burn button is a Folder with an arrow pointing to a Disc).
The burning process will take time depending on the speed of burning and the amount it has to burn. If you have
Verify
ticked, it will run a quick check when the burning is finished to make sure there was no loss of data while burning that could lead to a defective useless disc.
Burn Success?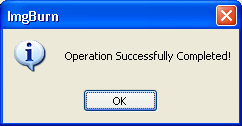 If all went well you should get a pop-up message reading,
"Operating Successfully Completed!"
.
Finally
Hopefully this article will have shown clearly how to burn
DVD-Video
content with
ImgBurn
for free. Once you have done it once, you won't need to worry about it again. If you do encounter any problems however, please visit our
Discussion Forums
and ask for help there.