DVD Profiler
DVD Profiler Unlimitedbably has the best combination of features and price of any disc cataloging software. It's easy to use, requires no configuration to look up disc information, and almost all its features are available in a free version. There is also a commercial version which offers improved cover image quality, a webpage you can upload your movie details to, and a variety of other little extras.
We'll stick with the free version because it does everything we need it to.
Required Software

DVD Profiler is a program for cataloging a DVD collection. You can add movies based on title or UPC code, or you can just put the disc in your computer and let DVD Profiler identify it for you.
DVD Profiler is free, or you can upgrade to DVD Profiler Unlimited for a fee. The Unlimited version gives you access to higher quality artwork, more advanced layout and report settings, and the option to publish information about your collection online.
DVD Profiler packs a lot of information into a nicely organized interface. All the details, from the number, type, and language of audio streams to cover images and easter eggs, are submitted by users.
In addition to doing title searches to identify discs, it gives you the option to search by UPC code. This avoids the problem of identifying your movie from a potentially large list, like with a title search. DVD Profiler can also match a movie disc to its database of titles by reading it from your DVD-ROM or BD-ROM drive. You can also search by title if you don't happen to have the disc or case handy.
Since it is specifically designed for cataloging discs, and not other video file formats there are no options to just lookup the movie information. Everything is tied to a DVD or Blu-ray release in DVD Profiler. If you choose to use it you may want to combine it with Ant Movie Catalog to keep track of your video files.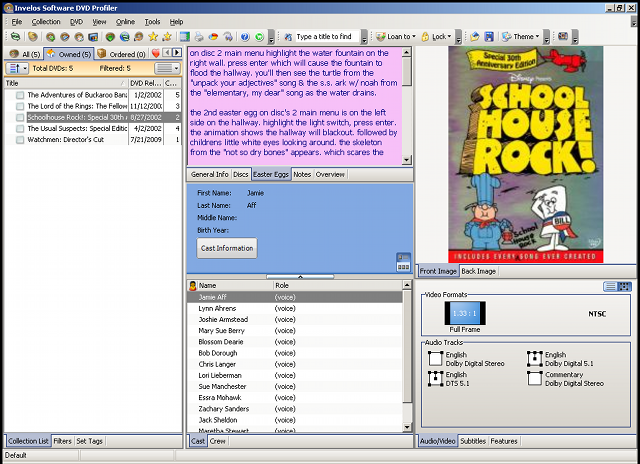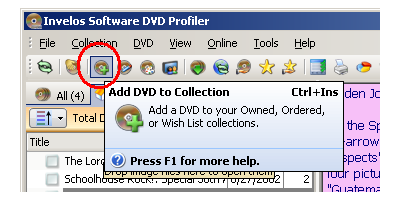 Adding A Disc To Your Collection
Add a new disc by clicking the
Add DVD to Collection
button.
Add by UPC
You can enter the UPC code found on the disc case to lookup a title.
The
Preview
button will show you the results returned from a search of the DVD Profiler database. Use the
Add DVD
button to add it to your collection.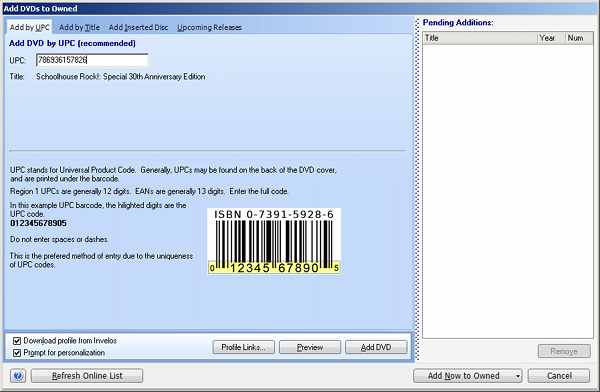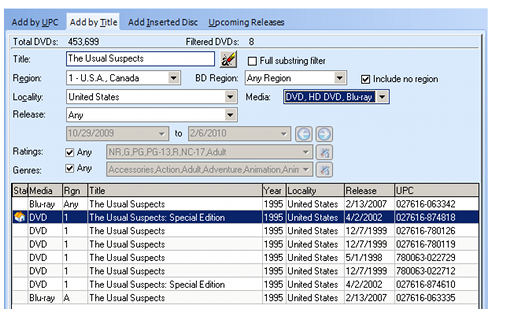 Add by Title
Select the
Add by Title
tab if you want to search by title instead. This will often return many results, corresponding to numerous releases of some titles, including different formats. You can narrow it down by
Region
Code,
Media Type
(DVD, HD DVD, or Blu-ray), or a number of other criteria. Previewing and Adding the movie to your collection works
the same as adding by UPC
.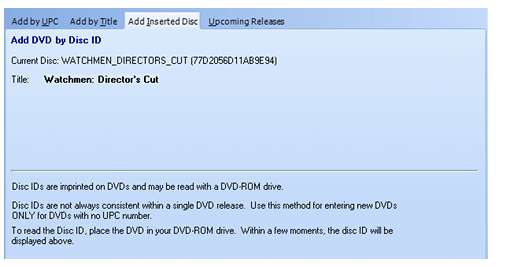 Add Inserted Disc
Just like the name suggests, the
Add Inserted Disc
tab is used when you want DVD Profiler to figure out what movie to add based on the disc in your DVD-ROM, BD-ROM, or even HD DVD drive. Previewing and Adding the movie to your collection works
the same as adding by UPC
.
Printing Reports
The
Reports
option on the
Tools
menu will open a dialog where you can select a report to print. If you don't see a report that suits your needs you can even use the
Get More Reports
button to download a selection of user designed reports. Clicking that button will automtically open a webpage offering report downloads in your browser.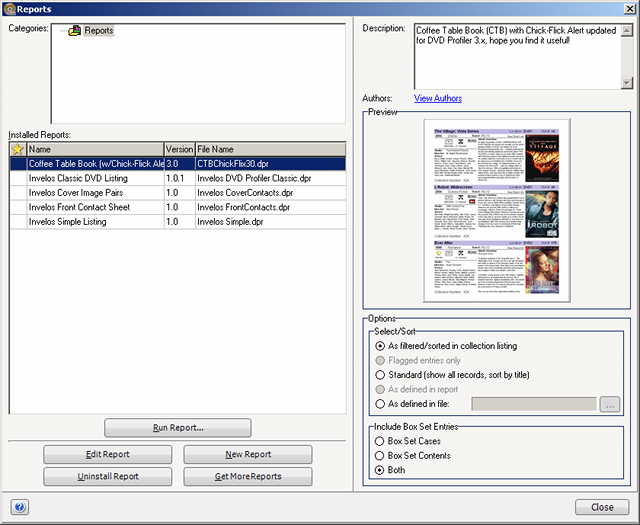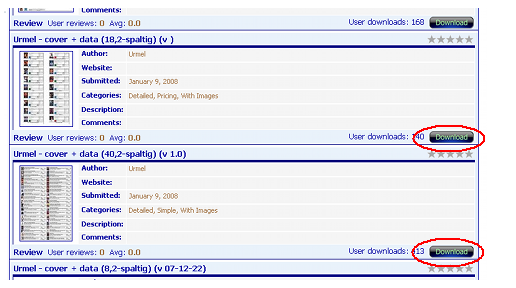 Downloading New Reports
Once the DVD Profiler website opens in a browser window you can browse the collection of reports and download them using the button at the bottom-right corner of every report listing.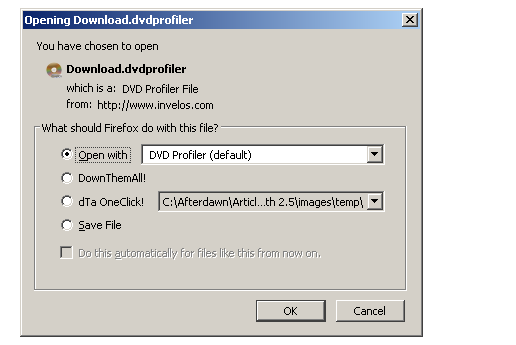 Automatically Adding Reports
After you select the
Download
button you'll be asked by Windows what you want to do with the file. Select
Open with
and then select
DVD Profile
from the list of applications.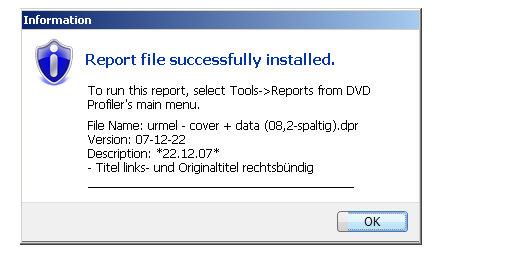 Click the
OK
button and the report will be imported to your DVD Profiler installation.