Create A Personal DVD Profiler Page
The free version of DVD Profiler may be the single best value for tracking your collection of DVDs and Blu-ray discs. Its combination of a quality interface and an excellent user-contributed database of releases makes it very popular. It seems fair to ask why anyone would buy DVD Profiler Unlimited when the free alternative does so much.
One answer might be unlimited access to DVD Profiler Online. With the free version, as long as you don't have more than 50 titles in your collection you can use DVD Profiler Online to publish your collection to your own personal area on the developer's website. You can use this feature to get access to your collection when you're away from your computer or to share with friends. You could also use it to keep an updated wish list. With DVD Profiler unlimited you can continue using this service no matter how many movies are in your collection.
Although this doesn't give you the freedom to customize how your collection is displayed or create files to use for another website, it is extremely simple to use and once setup it can be managed entirely from within DVD Profiler.
Required Software



DVD Profiler is a program for cataloging a DVD collection. You can add movies based on title or UPC code, or you can just put the disc in your computer and let DVD Profiler identify it for you.
DVD Profiler is free, or you can upgrade to DVD Profiler Unlimited for a fee. The Unlimited version gives you access to higher quality artwork, more advanced layout and report settings, and the option to publish information about your collection online.
Use of DVD Profiler Online is limited to 50 titles with the free version. The commercial version, DVD Profiler Unlimited, is necessary to use it if you have more than that.

Connecting To DVD Profiler Online
Start by clicking the
DVD Profiler Online
button to open the login dialog.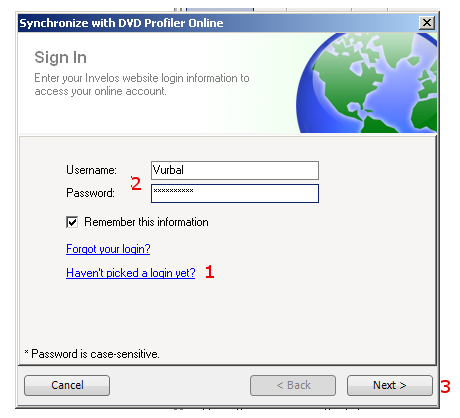 1. Create Login
If you haven't already created a login for DVD Profiler Online you can click on
Haven't picked a login yet?
to open the DVD Profiler Online webpage in your browser. You can sign up for a login there.
2. Login Info
If you have already created a login on the DVD Profiler Online website you can enter it here.
3. Connect
Once your login information is entered click the
Next
button.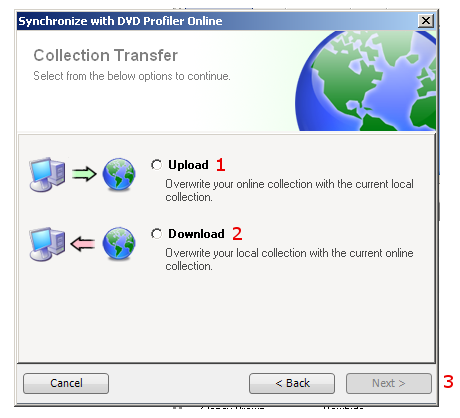 1. Upload
Select this option to upload your collection from your computer to your DVD Profiler Online webpage.
2. Download
Select this option to import your DVD Profiler Online collection information to your computer.
3. Go
Click the
Next
button to start uploading or downloading.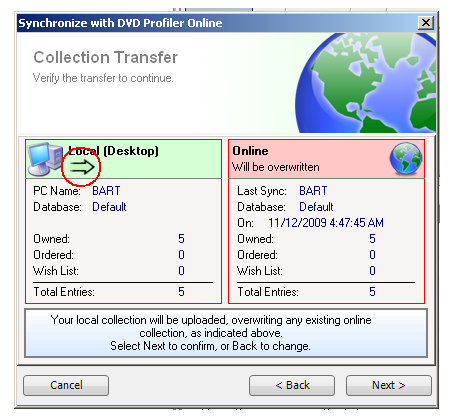 The Synchronization dialog shows you the operation being performed, including which direction information is being transferred and what will be overwritten. Verify this is correct and click the
Next
button.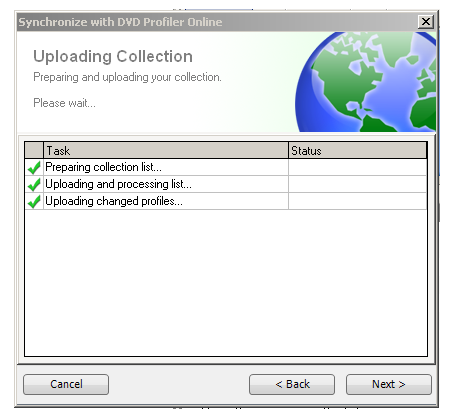 DVD Profiler will show you the status of the export and transfer process.
Viewing Your Collection Online

Once you have your collection transferred to DVD Profiler Online you can access it online at the
Invelos Software website
. Click the
Sign In
button at the top right corner of the
My Profiler
page. This will allow you to login to DVD Profiler Online. Logging in isn't required to visit your online catalog, but you can use it to find out the web address to visit.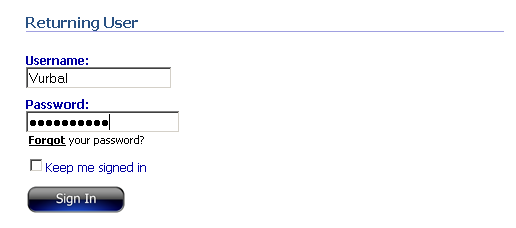 Login
Enter your login information and check the box next to
Keep me signed in
if you don't want to enter this information in the future.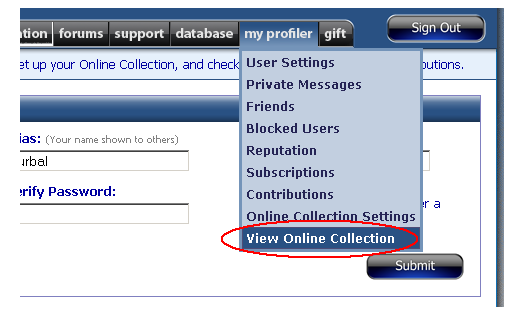 View Online Collection
Select this option to visit your personal DVD Profiler collection page. You can copy the web address from your browser to share your collection with others.
Sample DVD Profiler Profile Page