Export HTML with Ant Movie Catalog
Ant Movie Catalog gives you many options for exporting data about your movie collection. Among those is a feature for generating HTML files with details of one or more titles. You can use these files to add that information to your personal webpage.
Ant Movie Catalog includes two HTML templates which can be customized to suit your needs. Thanks to a menu for inserting tags, you don't need to understand how the program references the information you add to your template, but at least a rudimentary understanding of HTML is almost required. Depending on the amount of customization you want you may also need to understand CSS formatting.
If you don't already have some movies, if not your entire collection entered into Ant Movie Catalog you should probably do that before reading this guide.
Required Software

Ant Movie Catalog is a freeware program for cataloging movie and video collections. It can be used to track both disc and file based formats, so you can keep track of all your video in one place.

Exporting
Once your movie database is loaded, open the
Export
dialog using the toolbar button.
The Export Dialog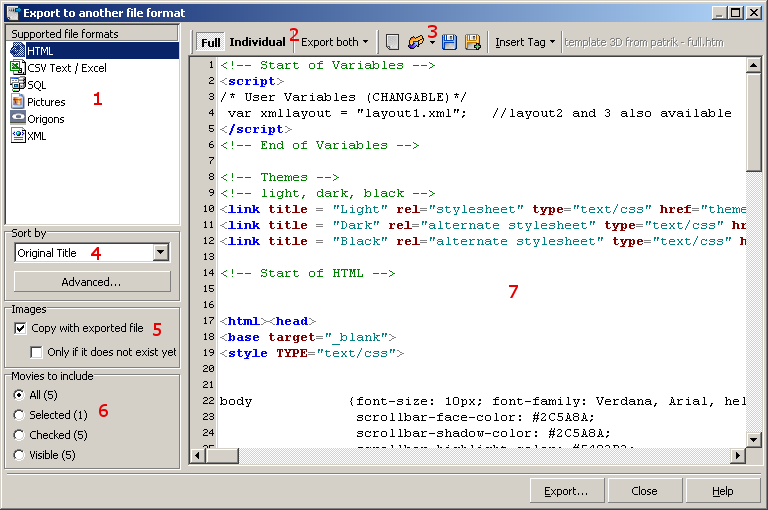 1. Export Format
Select HTML to access the HTML export templates and options.
2. Full and Individual Exports
There are separate templates for exporting your movies as a list on one or more pages (
Full
) or as individual pages for each title (
Individual
). By using different templates for each and selecting
Export Both
you can create a
Full
page with links to detail pages for each movie.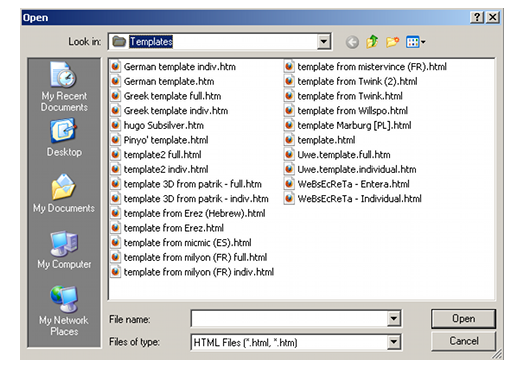 3. Loading an HTML Export Template
Although you can customize the HTML templates yourselves, that's beyond the scope of this guide. However there are a number of templates included which you can load with the
Open
button. Select the desired template and click the
Open
button. Some template files have names which indicate whether they're suitable for use as a
Full
or
Individual
template. It may take a few tries to find the one you want to use. Make sure the template you want to replace (
Full
or
Individual
) is selected.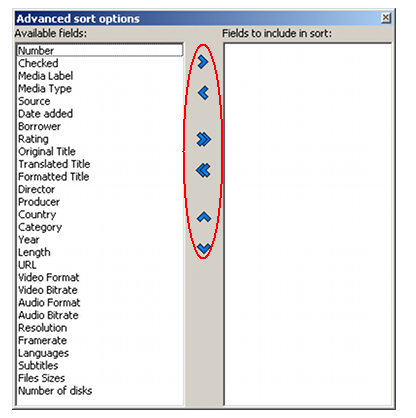 4. Sort Order
You can change the
Sort Order
, which determines in what order an exported list of movies is arranged. The
Advanced
button opens the
Advanced sort options
dialog so you can adjust the order based on almost any field of each movie record. Sorting will be done from top to bottom using the list on the right. Use the arrow buttons in the middle to select and re-order the sort crieteria.
5. Images
If your HTML output contains images you'll want to check the option to
Copy with exported file
. If you find yourself frequently exporting, but not changing the images used, check the
Only if it does not exist yet
option to save time exporting.
6. Selecting Movies
Which movies are selected depends on the
Movies to include
option, and sometimes what's visible, checked, or highlighted in the main Ant Movie Catalog window.
7. The Template
If you wish to examine or edit the template yourself you can do that in the editor window.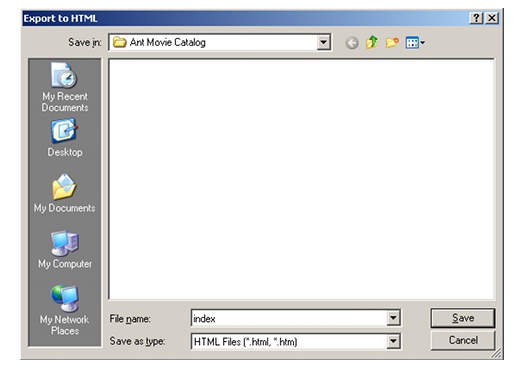 Export
When you are finished adjusting export settings use the
Export
button to create your website files. You will want to make sure to give your output files the name you'll be using for your website so that any links will be created correctly. If the export is intended to be a standalone website you should usually name it
index
, which is the default name for a website's main page.
Sample Output - Full Listing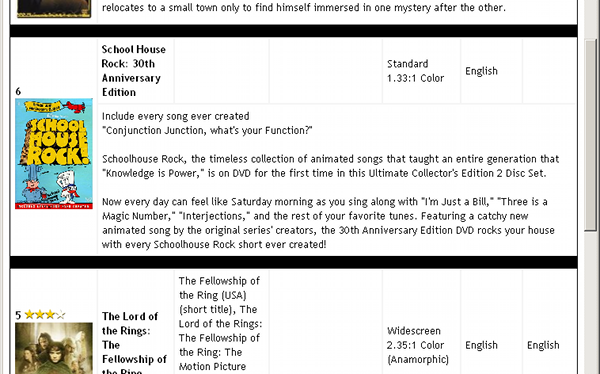 Full Listing With Embedded Individual Detail Pages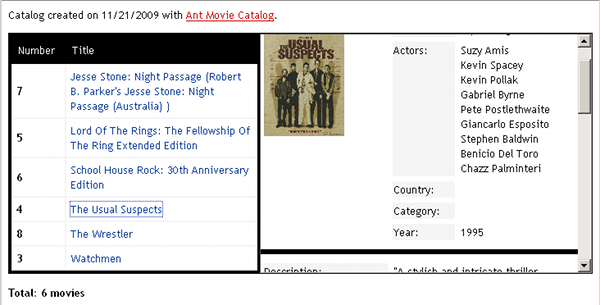 Sample Output - Individual Pages