Adding CDs
Most likely you'll spend more time entering CDs into Music Collector than doing anything else unless you add a lot of detail for your discs. This isn't to say it takes a long time to add a CD. In most cases you'll be able to use the automatic entry feature, which generally makes it completely unnecessary to enter any information manually.
Add Albums Automatically
To take advantage of Music Collector's automatic entry feature select
Add Albums Automatically
from the
Edit
menu. You can enter information manually or use a barcode scanner or CD-ROM drive with CD TEXT support to get information about your discs.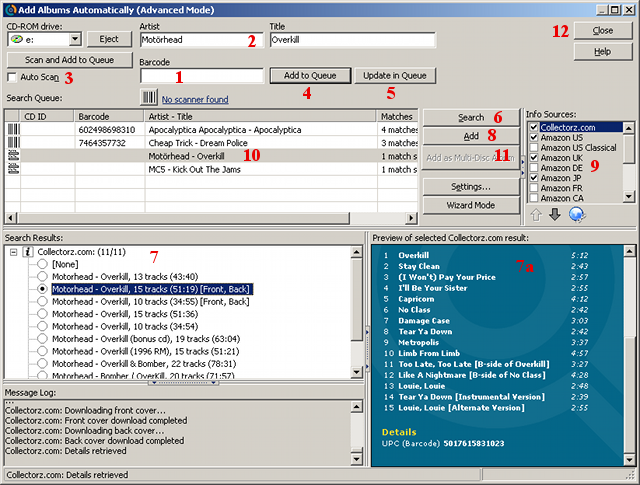 1. Barcode
The easiest way to look up CDs is by barcode. If you happen to have the Pro version you can use a barcode scanner for this. You can enter the barcode manually with either the standard or Pro version. Most of the time there will be a digit separate from the rest of the numbers. They may be even be to the left or right of the actual barcode. Normally you should include these numbers, but if you don't get any results that way you can try leaving them out.
2. Artist and Title
If you don't have the case handy you can also just enter the Artist and Title manually. This is more likely to result in multiple matches, so you're generally better off using the barcode whenever possible.
3. Scan CD Drive
If your computer's CD drive can read CD TEXT information you can simply put your disc in the drive and click the
Scan and Add to Cue
button. If you're going to be adding a lot of discs at once this way you can check the
Auto Scan
box so each one will be added to the queue automatically.
4. Add to Queue
Use the
Add to Queue
button to add an entry to the queue of CDs to be looked up.
5. Update in Queue
If you need to change the information being looked up for a particular CD you can select it in the list, make the desired changes in the
Artist
,
Title
, or
Barcode
field and click the
Update in Queue
button to apply your changes to the queue.
6. Search
Once you have your CDs added to the queue use the
Search
button to have Music Collector look them up. The results will appear in the
Search Results
pane.
7. Search Results
In most cases Music Collector will find more than one option for each CD in your queue. If you entered the barcode instead of the artist and title they should all match your CD exactly. Otherwise there will usually be more than one possibility listed for you to choose between. In many cases, particularly for older albums, there will be many variations with different bonus tracks. Select the one that matches your actual CD.
7a. Preview Pane
The
Preview Pane
shows the songs and cover images associated with the CD selected in the
Search Results
pane. This allows you to make sure you're selecting the right disc when there are multiple possibilities.
8. Add
Once you've selected a match from the
Search Results
pane for each item in your queue select the
Add
button to add entries for each one to your collection database.
9. Info Sources
By default Music Collector looks up CDs in your queue from the online Collectorz.com database, as well as at least one Amazon website. You can select or deselect the available sources, including Amazon websites for several different countries, by checking or unchecking them in the
Info Sources
list.

10. Queue Entries
You can also right-click on a CD listing in the queue and select an option from the context menu to remove it from the queue, search for just that CD, and lock or unlock the selection in the
Search Results
pane. You can also add individual discs to your collection this way if you highlight them together by holding down the
or key while selecting.


11. Add as Multi Disc Album
If you have multiple CDs from the same album you can select them together by holding down the or key and using the Add as Multi Disc Album button to add them to your collection.


12. Close
When you have finished adding discs you can close the window using the Close button.