Avi2DVD Output Settings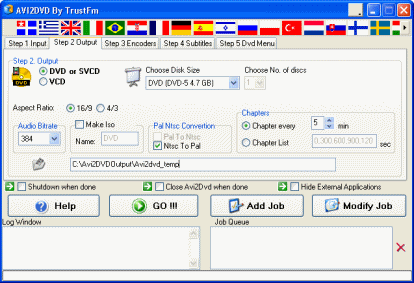 Now that the Input settings have been complete, you must set some goals for your output
DVD-Video
. Click the
Step 2. Output
tab. Here we will be able to manipulate many aspects of the output video and audio quality.
Avi2DVD Output Settings - Disk Size and Aspect Ratio

You just select the
DVD or SVCD
option as the Output. You will now be able to choose the output size to aim for while encoding. For example,
DVD-5
means that the output size of the DVD-Video compilation will fit on a DVD-5 disc, or a standard single-layer
DVD-R
disc.
An Aspect Ratio for the output must now be set. Needless to say, the aspect ratio of the output should be the exact same choice as the input Aspect Ratio.
Avi2DVD Output Settings - Audio Bitrate & Format Conversion

Adjusting the audio bitrate is based on how much priority you would like to give the output quality of your audio stream. Sticking to around
384kb/s
is recommended for DVD-Video.
Make ISO allows you to create an
ISO
image of the entire output DVD if you should wish to.
Pal Ntsc Convertion
allows you to convert either
NTSC
to
PAL
or vice versa. Be careful with this setting as any framerate conversion will change the speed of the output video. NTSC is used in North America and Japan whereas PAL is the standard in Europe and Australia.
Avi2DVD Output Settings - Chapters

You can set
Chapters
which you can jump to using your DVD remote control. You have two choices, to automatically create a chapter every certain number of minutes or create a list of chapters to be created as specified seconds throughout the video stream.
Avi2DVD Output Settings - Output Folder

You can specify an output folder for Avi2DVD to save some project files and a DVD-Video compilation (
VIDEO_TS
folder). By default, Avi2DVD will create a folder called
Avi2DVD_temp
in the same folder as your input file. However, clicking the button beside the output folder field will allow you to browse for another folder to save the files into.
Next..
Now that the Output settings are taken care of, it's time to pick an encoder. Click the
Step 3 Encoders
tab and move to the next page.
Please go to the Next Page

On the next page, we will setup our subtitles (optional), video encoder and create a DVD Menu (optional); it is not near as complicated as it may sound. You are almost there now.