Introducing Avi2DVD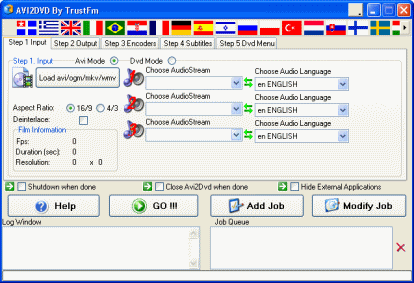 Let's take a quick look at the
Avi2DVD
interface. While it may appear very busy, it is actually quite easy to understand. Avi2DVD is built with batch encoding needs in mind; therefore, what a user does is simply select an input file, settings and then add these instructions to a
Job Queue
, but nothing will happen until
Go
is clicked.
The national flags at the top of the software symbolize different languages the application is available in, so with a click you can change the language of the entire interface. Below this are 5 tabs,
Input
,
Output
,
Encoders
,
Subtitles
and
DVD Menu
. These tabs will show different editable settings that have a dramatic effect on your output files.
Toward the end of the application is the
Log Window
and Jon Queue. The Job Queue is important, as you must add any project to the Job Queue before you can begin encoding. First things first,
Input Settings
.
Avi2DVD Input Settings - Mode and Open MKV

Firstly, you must make sure that under the
Input
Tab,
Avi Mode
is selected. Now click the
Load avi/ogm/mkv/wmv
button in order to open your MKV file. A file browser will now appear, navigate to the folder your MKV file resides in and
Open
it. The interface will now change.
Avi2DVD Input Settings - Aspect Ratio & Video Info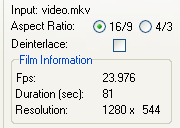 Once you have opened your MKV file, Avi2DVD will now asses the video
resolution
,
framerate
and
duration
. In my example, the resolution is
1280 x 554
, indicating my file is from a HD source. Choose the
Aspect Ratio
of your video file (play it on full screen, if has no borders at all, it is
4:3
and if it has borders at top and bottom like widescreen DVDs, choose
16:9
. If there are borders on all sides of the video itself, it most likely needs to be set to 4:3).
The Deinterlace option allows you to choose whether to run a Deinterlace filter if your video is
interlaced
.
Avi2DVD Input Settings - Audio Stream Options

Since the source MKV file may include many different streams of audio, this allows you to select those streams and specify which language they are in (Up to 3). When you complete this part, move to the
Output
tab and the next page.
Please go to the Next Page

On the next page, we will set an Audio bitrate for the output DVD, the format we want the DVD to be in (PAL for Europe / Australia, NTSC for North America / Japan), an Output folder and the chapters we want on the Output DVD