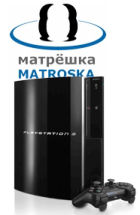 Here we will convert MKV files to MP4 files for the PlayStation 3 (PS3) console. This method will use as little re-encoding as possible to preserve quality. GOTSent will automate a process that usually involves using several applications to extract streams from MKV files, change h264 stream characteristics, encode to AAC audio and mux as MP4.
Introduction & Requirements
Software you must download and install

GOTSent
Required: Obviously you will need to download GOTSent for this guide. Download!
AC3Filter
Required: You will need to install AC3Filter for audio output settings. Download!
Haali Media Splitter
Required: Haali Media Splitter must be installed for proper MKV file support. Download!
Nero AAC Encoders
Optional: Download the Nero AAC Encoders if you want better output audio quality. Download!
WinRAR
Optional: GOTSent downloads as a RAR file, you can use WinRAR to extract it. Download!
The PS3 does not support playing MKV files directly, but it does support MP4. These days, most MKV files around contain H.264/AVC video and DTS or AC3 audio. While the audio will have to be encoded to AAC for this method, the video (should) lose no quality (if AVC) and the lack of need to encode video will take hours off a normal conversion time. This process should work fairly fast. Run the straight-forward installers for AC3Filter, Haali Media Splitter and WinRAR once you have downloaded them.
Download and Extract GOTSent Files
The first thing you need to do is open the
GOTSent RAR
file in
WinRAR
. If you have never used WinRAR before just install it and then .RAR files will automatically be associated with it. You will see that inside the archive is a bunch of files and folders. What you must do now is go somewhere, anywhere on your HDD and create a folder called
GOTSent
.
Now using
WinRAR
, drag and drop the files and folders (
CTRL + A
to select all) into the GOTSent folder you just created so that it looks similar to the photo supplied with this text. Remember where you have put this folder for later use. It is good to keep all tools of this sort in the same directories so that you can easily find them when needed.
Download and Extract Nero AAC Encoder Files (optional)
Now download the
Nero AAC files
if you want to have the highest possible quality audio output. The ZIP file that you download from Nero's site will open in WinRAR, and it has four files in it,
neroAacTag.exe
,
neroAacEnc_SSE.exe
,
neroAacEnc.exe
and
neroAacDec.exe
. The neroAacEnc_SEE.exe file is specifically for computers that have processors that support SEE2. If your Intel or AMD64 chip does support
SEE2
, then that's the file we are looking for. If not (or if unsure), then neroAacEnc.exe is what we are looking for.
Using WinRAR again, drag and drop the encoder files from the ZIP archive into the same folder that you put your
GOTSent
files.
What Next?
We have completed all the necessary setup processes. Now you must move to Page 2 to start the conversion.
Page 2 - Convert MKV to MP4 with GOTSent
--> Move ahead to page 2 to begin the conversion