Convert Subtitles from SSA to SRT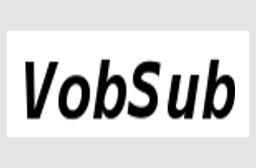 Over the years there have been a number of different subtitle formats used for various applications. Something as simple as switching from one media player to another can cause big headaches when you find out that the subtitles you've come to rely on no longer work. In order to work around these problems it's important to be able to convert from one format to another.
Two of the most common subtitle formats are SSA from SubStation Alpha, and SRT created by SubRip. Since both of these are text-based formats, compared to the image based subtitles used for DVDs, it's actually quite easy to convert subtitles from one format to the other.
Required Software





VobSub is an extensive collection of tools for ripping, editing, converting, and playing subtitles.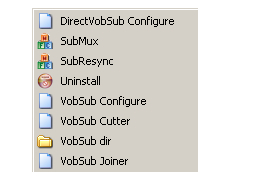 Start VobSub
For converting subtitles the program we'll need to use is called SubResync. Despite the name, it actually does much more than fixing sync problems, although it can do a good job with that as well.
---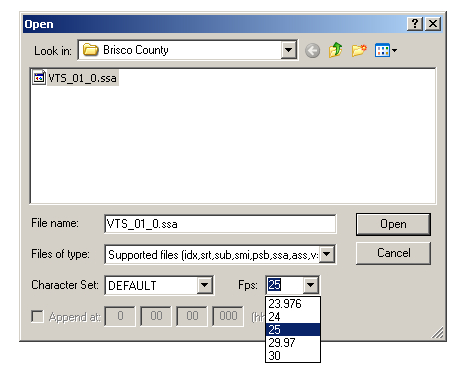 Open Your Subtitles
The first thing you'll need to do is load your subtitles into SubResync. Click the Open button and browse for your subtitle file. You'll also need to make sure to have the correct framerate specified. For most NTSC video from film sources this will be 23.976fps. For actual NTSC video (from a video camera rather than film) it will be 29.97. PAL always uses 25fps. It's important that you get this right since it can cause sync problems later otherwise.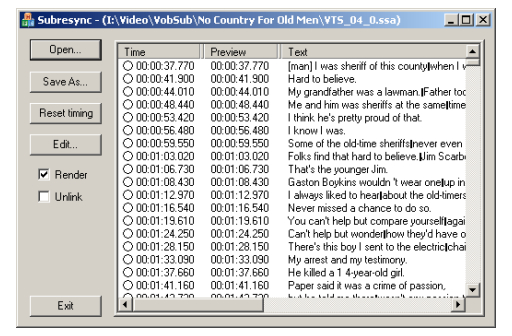 Preview Subtitles
Once the subtitle file is opened you'll see a list of timecodes representing when the subtitles will be displayed. Since SSA subtitles use a text file, rather than just pictures of text like DVD or VobSub subtitles, the text is listed next to each beginning and ending timecode. You can edit any subtitle by double clicking on the beginning timecode at the far left.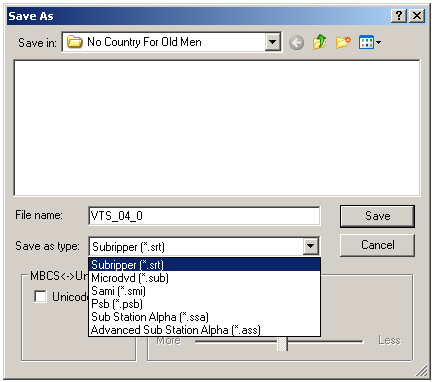 Save as SRT
To convert from SRT to SSA simply use the
Save As
button. You'll need to make sure the type in the dropdown near the bottom says SSA. As soon as it's done you'll have an SRT file with your subtitles.
---
Version History
v1.0
Original version by
Rich
"
Vurbal
"
Fiscus