Joining AAC Audio in MP4 Files
Another feature of MP4Box, and by extension YAMB, is the ability to join MP4 files. By combining files one after another you can also join their audio into a single continuous stream. You can use this method to join the audio from a movie that's been split across multiple CDs or from songs that you want to keep together when your iPod is in Shuffle mode.
Required Software



YAMB stands for Yet Another MP4Box Graphical Interface and that's exactly what it is. It provides a convenient way to use the MP4Box muxer to work with MPEG-4 video and audio streams. You can either install the included version of MP4Box or copy another version into the YAMB folder under Program Files. In addition to MP4Box, YAMB can also act as a front end for Tagger, an open source program for adding tags for things like artist and song name to an MP4 file.>



Optional Software



MP4Box is an MP4 muxer, meaning it can package MPEG-4 video and AAC audio into MP4 files. In addition to this muxing capability it can also be used to extract streams from MP4, AVI, MOV, and TS (MPEG-2 Transport Stream) files and perform a number of minor editing features.

If you're using the version of MP4Box that YAMB installs for you this download isn't necessary. To use a different version of MP4Box simply copy it to your YAMB folder under 'C:\Program Files', overwriting the one installed by YAMB.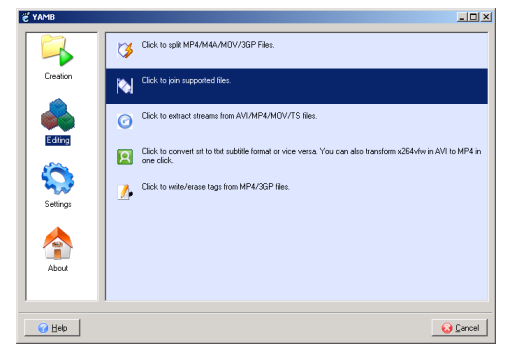 Join MP4 Files
Select
Editing
from the options on the left side of the YAMB window. Then select
join supported files
. This will open the
Concatenation of Files
window where you can select the files to join.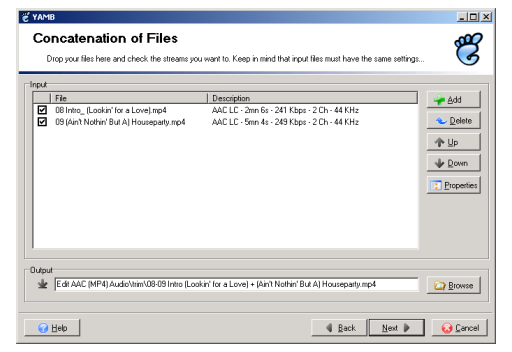 Concatenate Files
In this window you add files by using the folder icon on the right side. You can add multiple files in the same folder by holding down the
<Ctrl>
key and selecting each one individually. You can also hold down the
<Shift>
key and selecting the first and last file you want to include.
Once you've added all the desired files make sure they're in the correct order. They'll be joined in order from top to bottom. You can use the
Up
and
Down
buttons to change the order.
YAMB will default to creating the new MP4 file in the same folder as the first file you selected to join. You can change this with the
Browse
at the bottom. You can change the name of the output file by simply editing it in the
Output
text box.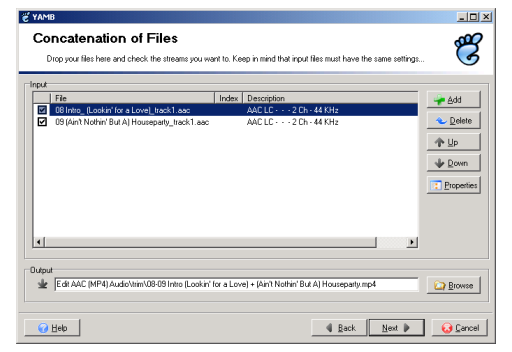 Joining Raw AAC Files
You can join Raw AAC files to create a new MP4 file as well. You can also use both Raw AAC and MP4 files as input for the same join operation.
Continued On Page 4



Next we'll look at working with AAC audio in the Matroska container. Matroska's MKV and MKA files are becoming a popular way to combine nearly any type of audio and video streams in a common format.





How to Edit AAC (MP4) Audio
You are viewing Page 3 of 5 -- Go to page 1 , 2 , 3 , 4 , 5
---