Play AVI from CD or DVD media
You can play an AVI file directly from a CD or DVD using the Xbox 360 Dashboard. Firstly however, let's take a quick look at burning a CD or DVD compatible with the Xbox 360 console. For this guide, we will use
ImgBurn
as it is free and easily beats most commercial competition.
Download and install ImgBurn from Here
-- then run the application.
ImgBurn First Run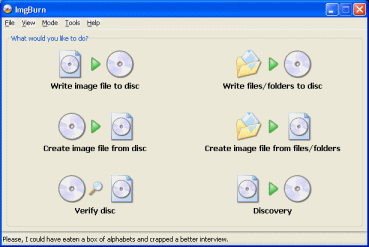 Download and install the ImgBurn utility
, and then run it from a shortcut on your Desktop or in your Start Menu. You will get the welcome screen which is very easy to understand.
The option you must click is
Write files/folders to disc
.
ImgBurn Build Mode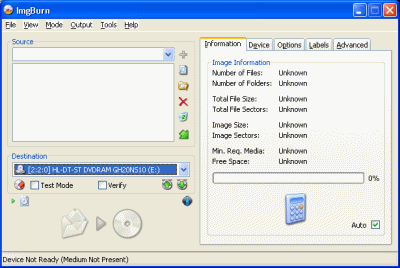 The next thing you will see is ImgBurn in
build mode
. You don't need to concern yourself with much of these settings, just make sure you have a blank disc in your drive with enough capacity for your AVI files (CDs generally have 700MB capacity whereas a single-layer DVD has 4.36GB or double-layer has 8.5GB).
The next thing to do is to click the
Open Folder
button. The open folder button is one of the small six icons beside the source box. Click it and browse for the AVI files you want to add, or any other multimedia file type you want to test.
Check Capacity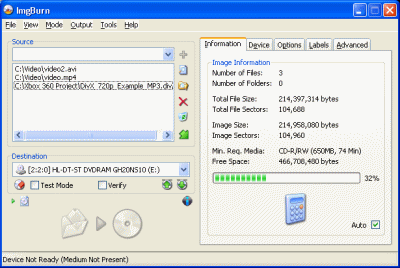 Once you have added all the files to the compilation that you would like, take a look under the information tab, above the calculator, to see how much of the disc's available space you will be using. In my example picture (click it to enlarge), my files are taking up 32% of my overall disc space (although in reality I have no disc inserted yet and ImgBurn is guessing that I will be using a 650MB blank CD)
Once you have done this, click the
Device
tab beside
Information
.
Set Burning Speed and Burn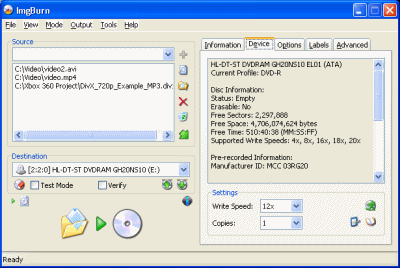 Under the
Device
tab, you can now see technical information on the blank disc that you have inserted. Change the
Write Speed
to whatever you are comfortable with (and the information tells you is available for the media!).
When you have done that, it is time to burn this disc. Click the
Burn
button (the large button depicting a Folder pointing at a CD, to the bottom left of the application. You may be now asked to change the
Volume Label
(use anything you want) and to confirm that you are ready to burn.
The Burning Process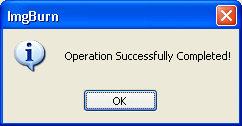 The time the burning process will take to complete depends on how much data you are burning and what Write Speed you selected. Either way, you should receive a message informing you that the operation completed successfully, as seen in the picture to the right of this text.
Now that you have a burned disc, it is time to attempt playing the
AVI
files on it.
Play AVI files on Xbox 360 -- Select Source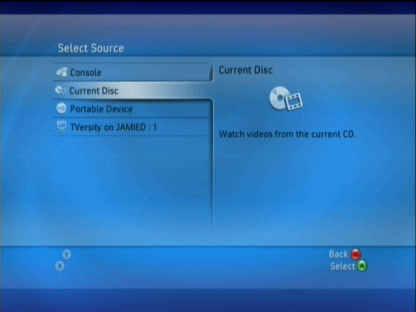 Power up your
Xbox 360
console and get to the
Dashboard
(if a game loads, tap the
Xbox
logo in the center of your controller and press Y to exit to the
Dashboard
, then remove the disc and insert your freshly burned multimedia disc.). With the disc in the drive, move to the
Media
blade/section on the
Dashboard
and select
Video
, then press
A
.
Most of the time you will now be asked to select the source you wish to play. If not, if the Xbox 360 picks one for you (even if it is the CD), then press
X
to go to the
Select Source
screen just so you remember this in future.
The option you are now looking for is
Current Disc
. Select it and press
A
.
Current Disc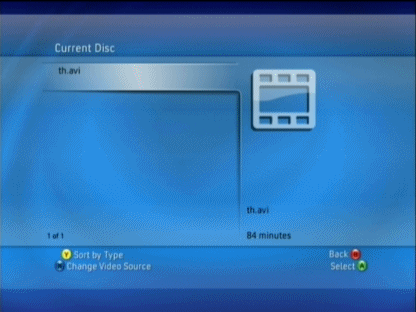 The
Xbox 360
will now scan the disc and let you browse through folders etc. on it. On my disc, there is only one file,
TH.AVI
. Select whatever file you wish to play and press
A
.
Media Update Prompt?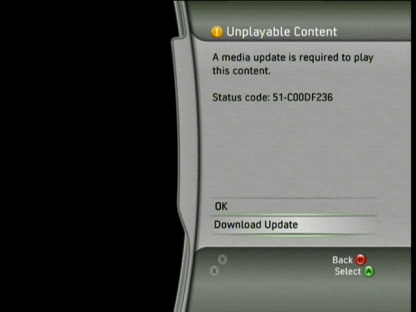 If you are now prompted to download an optional media update, then please go the Appendix A: Multimedia Fall Update 2007 part of this guide for more information. If you receive an
"unsupported"
error even though you are sure after checking your AVI files that they should be supported, then you might need to connect to Xbox Live to check if there are any general
Dashboard
updates available (you only need a free silver account to get updates).