This article discusses how you can get the multimedia content in your AVI files to play on an Xbox 360 console. It will provide several different methods based on the multimedia support of the Xbox 360 console and may be updated regularly with Xbox 360 updates.
Introduction & Requirements
| | |
| --- | --- |
| Xbox 360 | Obviously you will need an Xbox 360 console for this article |
| Fall 2007 Media Update | In the Fall of 2007, Microsoft released a media update for the Xbox 360 console to improve multimedia support. If you did not get this update yet, but you do have Xbox Live, then before this guide is over you will most likely have updated your Media capabilities. If you do not have Xbox Live or the media update then most hope of playing AVI files "directly" are gone, but if you have a wireless network then you can skip to the TVersity streaming method. |
| AviCodec | This tool can analyze AVI files and inform us what video and audio content they contain. |
| ImgBurn (Optional) | If you want to play media from a disc, you can use ImgBurn to create it for the console. |
| TVersity (Optional) | TVersity is a media sharing application that supports the Xbox 360. |
What are AVI files?
Files that have a .
AVI
extension are multimedia container files that can store video and audio stream data. AVI stands for
Audio Video Interleave
. Nowadays AVI files remain amongst the most commonly traded file type in the world. It is used in most cases for
MPEG-4
ASP video content with
MP3
or
AC3
(
Dolby Digital
) audio. Examples of video codecs used to create the vast majority of the video you will find online are
DivX
and
XviD
, both which provide
DVD
-rivaling quality at much smaller file sizes, making them popular for video sharing.
When playing an AVI file, you need a video player that can "split" the multimedia container (the AVI itself) and then codecs that can decode the video and audio data inside the files (the word codec is an abbreviation of
Co
der /
Dec
oder). For subtitle support, AVI files rely on external subtitle formats stored not in the container itself, but completely separate files. The .
SRT
subtitle format is the most common. If you wish to find out more about AVI files before continuing to read this article, there is no better than AfterDawn's AVI playback article, which has all the information you will need to never have a problem with AVI files again.
Does the Xbox 360 support AVI files?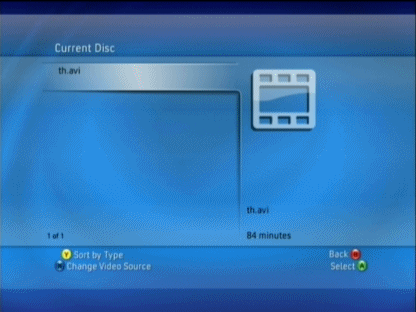 As we saw in the previous paragraph, the
AVI
itself is a multimedia
container
which stores video and audio content that was created by a codec and must also be decoded (played) with a codec. So generally, Yes, the Xbox 360 console does support the playback of AVI files. The Fall 2007 multimedia update for the Xbox 360 console added support for DivX and XviD video. Through tests we performed at
AfterDawn
, we find however, that subtitle support is evasive right now, but we are confident that
Microsoft
will fix this major problem soon.
The Xbox 360 console supports AVI files with
DivX
video or
XviD
video directly (that is, you can play them without any special processes in between from
DVD
,
USB
,
WiFi
etc.) including
High-Definition
material. As for audio, the console supports decoding stereo MP3 audio and stereo or multi-channel
AC3
(
Dolby Digital
) audio inside the AVI container. This level of support means that the majority of all AVI files you will find around the Internet will work with the Xbox 360 console (assuming you get the Fall 2007 update).
To get the Fall 2007 update, all you have to do is have the latest
Dashboard
update installed (you are prompted to install Dashboard updates when they are available, as soon as you sign in to
Xbox Live
) and then attempt to play an AVI file with
DivX
or
XviD
video from any source and you will be prompted to install the free multimedia update. For more information on the level of support the Xbox 360 console has for AVI and other multimedia formats, please read our
What does Xbox 360 play?
article.
So what's in my AVI file anyway?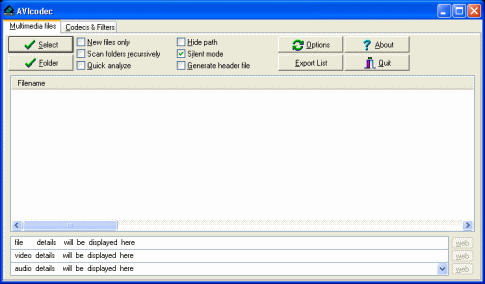 Let's just take a moment to check out what is in your AVI file that the console needs to be able to play. For this you will need to install
AVICodec
, a freeware multimedia file analysis tool. The picture to the right of this text shows a re-sized screenshot of AVICodec when you first run it. As with any pictures in this guide, you can click on it to enlarge it if you cannot see it properly.
In order to check an AVI file, simply drag it from a folder and drop it inside the white space on the
AVICodec
application, or click
Select
and navigate through your HDD until you find the AVI file you want to check.
AviCodec Results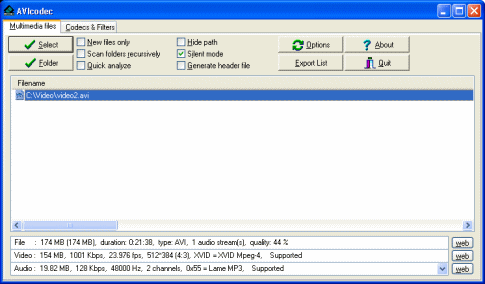 AviCodec
should only take a few seconds to analyze the file and tell you what it contains. In my example picture (click to enlarge) you will see that it reports
XVID
video. It also reports 2 channel MP3 audio, so this file should be 100% compatible with my Xbox 360 assuming I have the Fall 2007 multimedia update.
Your file may also have XviD, or it could be DivX video which is also supported (although we had some scattered issues with older versions of
DivX
video). You also might have AC3 audio, which is also supported by the Xbox 360 console directly after the media update.
So that is how to analyze your AVI files, let's now move on to delivering the AVIs to the Xbox 360 console.