In this guide we will teach you how to play back those full videos you have saved as ISO or Image files on your computer using all freeware methods.
Introduction

ISO-
Apart from being one of the leading standards organizations, ISO refers also to a CD or DVD image (not picture..) file with an extension of ".iso". The extension comes from the full name of the CD-ROM and DVD-ROM file system specification, ISO 9660.
Just like other CD/DVD image formats, ISO is a file that contains full content of the disc, including every single track, directory, file and information about the structure of the disc (i.e. ISO files can't be used as they are, but they need to be either "mounted" with tools like Daemon Tools or burned to CD or DVD in order to see what files the disc image actually contains). Normally ISO files are being used to replicate existing CD/DVD discs, transfer those discs over the network to other location (or to other person) and burn back to CD/DVD which then would be an identical replica of the original disc.
One of the output choices of our excellent
CloneDVD guide available here
is ISO, so if you have followed that guide and outputted to ISO, here is a chance to playback that image file without needing to burn to disc.
The Easiest Method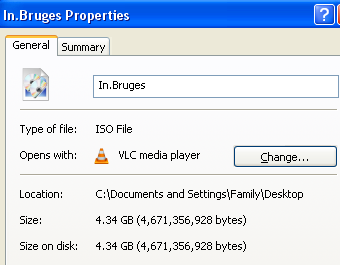 The easiest method is to use
VLC player
, the versatile, light media player that we recommend for most video and audio playback.
I have right clicked on the ISO file to show off the
properties
of the file and you can see at right tthat it is a 4.36GB ISO file. To play it in VLC you have two options. You can either click on
Change
from within the properties window, and manually browse to VLC. Hit
Apply
and then you will see that the ISO file is set to
Open With
VLC media player.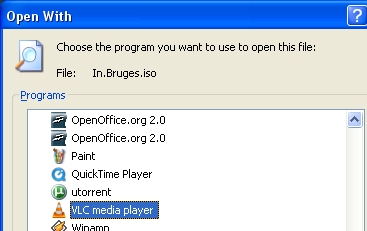 The second method is to
right click
on the file and select
Open With
that way and browse to VLC.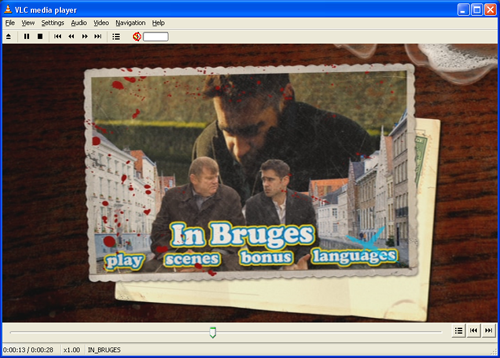 Whichever way you choose, the movie file will then open in VLC and will be fully playable.
To download VLC from AfterDawn please visit the following links depending on what operating system you use.
Windows:
http://www.afterdawn.com/software/video_software/video_players/vlc.cfm
Mac:
http://www.afterdawn.com/software/alternative_platforms/mac_software/vlc_for_mac.cfm
Linux:
http://www.afterdawn.com/software/video_software/video_players/vlc_linux.cfm
Other Methods
The next best method is to mount the image file using a virtual drive and then play it back with your favorite DVD player. The two most popular virtual drives are
Daemon Tools
and
Slysoft Virtual CloneDrive
but it is also important to note that any version of
Nero
after 7
will have its own virtual drive. For this guide however, I will be using Virtual Clone Drive as I feel it works the best and is free without adware.
Slysoft Virtual CloneDrive
- Download Virtual CloneDrive here. Please install the software and make one drive available before moving on to the next steps.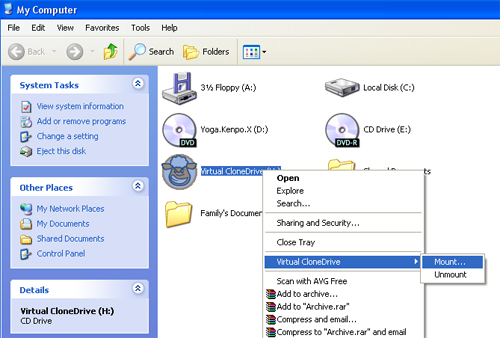 After you have installed VCD, it will now show up in
My Computer
as a new drive and in my example it is the
F:
drive. Right click on the new drive and head over to
Mount
. From there you will be asked to browse for the image file and when you find it hit
Open
.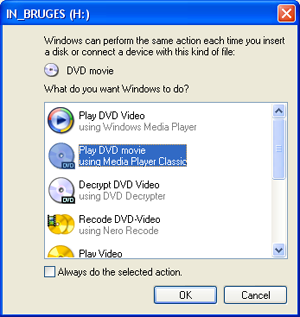 After the file is mounted (acts like a physical DVD is placed in the drive), your PC will ask you what you want to open the file with, and will give recommended solutions such as VLC,
Windows Media Player
or
PowerDVD
. Select whatever your choice is and hit
OK
. The movie will then play in the movie player of your choice :)
Finishing Up
We hope this guide has been informative and has helped you to learn how to playback those ISO image files you may have sitting around.
If you have any questions, please visit our
Discussion Forums
and ask there.
Version History
v1.0 -- First Version Published-- by
DVDBack23
(29/09/2008