How to change Booktype for improved compatibility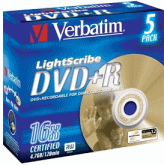 We have been asked to write an article on how you can set Booktype (change bitsetting) for DVD+R, DVD+R DL or DVD+RW blank media. This article can make a huge difference in terms of compatibility and performance for the discs in DVD players and gaming consoles at least. This article is relatively simple to follow and doesn't require too much prior knowledge about DVD burning or the different blank DVD formats to choose from.

What is Booktype / Bitsetting?
A Booktype (bitsetting) field is present on the
lead-in
part of a DVD disc. This field is essential for the hardware accessing the data on the disc to identify if it is a
DVD-R
, DVD+R (or re-writable variants) or
DVD-ROM
. DVD-R is the oldest and so it is probably the most compatible for DVD players when bought. DVD+R came later on and a Booktype of
"DVD+R"
or
"DVD+RW"
can actually cause compatibility issues. For this reason, editing the Booktype has some obvious benefits.
DVD-R vs. DVD+R(W)
As previously stated, DVD-R is an older format than DVD+R. It is easy to think of them as the same thing as both can be used fort DVD-Video and DVD-ROM (data) content. However, some users may notice that there are some performance or compatibility issues associated with DVD+R discs. Older DVD players might complete choke on a DVD+R disc and spit it back out.
Luckily, with a DVD+R disc and a compatible burner, you can edit the Bitsetting field. When checking the Booktype of the resulting burned disc, if all went well, it will read as a DVD-ROM disc (or what you specify). Despite reports of success, there is currently no widely-known method to change the bitsetting for the DVD-R format, as the lead-in are is pre-written during production.
Benefits of changing Booktype
Whether you are using an old DVD player or you are using your discs with a games console, changing the Booktype of DVD+R(W) media to DVD-ROM is highly recommended. When some older hardware has problems with DVD+R discs, the DVD-ROM booktype can sometimes completely defeat this problem and your discs will work as you want them to work. Also, with some games consoles compatibility is improved, and for newer games consoles, a DVD-ROM booktype is considered essential.
DVD burner compatibility
A large amount of variably priced DVD burners give you the option to change Booktype / Bitsetting. We don';t have a comprehensive list prepared at this moment, but some sites, like
CDFreaks.com
, produce reviews on DVD burners regularly. If you are buying a DVD burner, we would suggest that you keep an eye on similar sites, and of course,
visit our DVD burner forums
and ask for suggestions from our helpful forum users.
How do you change Booktype?
You can change the Booktype setting with many software applications as long as you have a compatible drive and either a DVD+R, DVD+RW or DVD+R DL disc. In this article, we cover a freeware option called
ImgBurn
, and also use two applications from the
Nero
suite of products;
Nero Burning ROM
and
Nero CD/DVD Speed
as examples. If you have any of these installed, then skip to the page that covers the application from the table of contents. If you don't have any, then use the following download links.
ImgBurn (freeware):
http://www.afterdawn.com/software/cdr_software/cdr_tools/imgburn.cfm
Nero (trial):
http://www.afterdawn.com/software/cdr_software/cdr_applications/nero.cfm
We will start on the next page with ImgBurn.
NOTE:
There are many screenshots in use with this article. Due to the wide variety of default resolution displayed on our users' screens, if you have trouble reading the resized or cropped images in this article, simply click to enlarge them.