Adding Delay to Subtitles
Sometimes your subtitles display up to a second or two before they should. If every subtitle is ahead of the movie by a fixed amount it's very easy to fix with VobSub.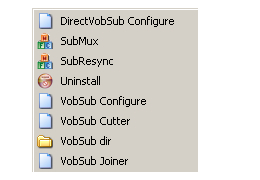 Start VobSub
Unlike the previous two operations this one uses VobSub's main interface. Select VobSub Configure from the Start menu.
Adjust Delay
The number listed for
Time offset (ms)
is normally set to 0 by default. If you need to delay the subtitles simply change this number. Increasing it will cause the subtitles to display later. Decreasing it will make the subtitles display sooner. When you click the
OK
button the delay will be saved.
---
Version History
v1.0
Original version by
Rich
"Vurbal"
Fiscus