Installing SageTV
Installation began with shutting down some Windows Media Center related services. If you try SageTV and prefer to stick with Windows Media Center (and haven't installed WMP 11) you can simply reverse these steps to activate it again. I selected the option to run the SageTV as a service, and was presented with the SageTV Service Control application after installation completed.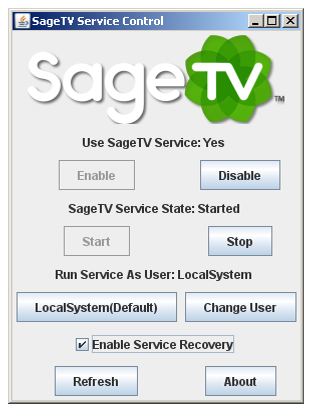 SageTV Service Control
Although the SageTV service can be controlled from the standard Windows MMC console, just like the Windows MCE services, a shortcut is provided on the Start Menu to run a special configuration program. If you're not already familiar with the Windows Services console you'll probably prefer to control SageTV services this way. Actually I'm quite familiar and comfortable with Windows services and still use the SageTV Service Control program.
First Time Configuration
After starting SageTV for the first time I was able to switch to my remote control immediately to complete the initial configuration. This configuration included some questions about my geographical location, language, additional software or hardware clients (for streaming media across a network connection), media and recording directories, as well as my TV system (NTSC) and screen geometry (4:3 Aspect Ratio).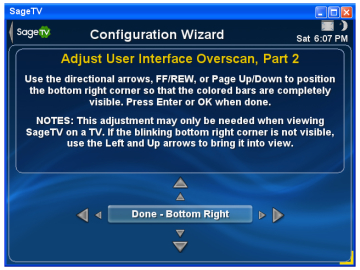 Screen Dimensions
I was happy to see that SageTV doesn't assume the location of your TV screen's borders. This is important because between my video card and my TV I only see the equivalent of 588x480 resolution using a display resolution of 640x480
1
. SageTV automatically corrects for this problem by letting you "show" it the screen boundaries. Using the remote's arrow keys you position the corner markers in the upper left and lower right corners and your video will be scaled (with borders as appropriate) to fit in that portion of the frame.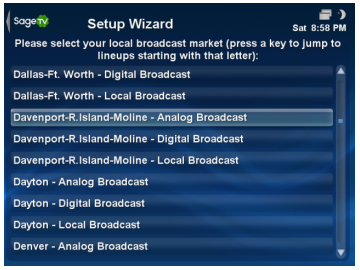 Video (TV) Recording Options
As I don't use my HTPC's DVR capabilities (which are limited due to a lack of hardware MPEG-2 encoding), but I did look through the video source setup. If you live in the U.S. or Canada it automatically provides TV listings for a wide variety of sources including OTA (terrestrial broadcast) in both analog and digital format, as well as both cable and satellite offerings.
Additional Setup
Unlike Windows Media Center, SageTV doesn't default to using DirectShow decoders. It's capable of playing many formats, but isn't always as good a choice as other software I already had installed on my computer. In SageTV's Detailed Setup menu I was able to enable DirectShow (ffdshow) decoding of MPEG-4 video.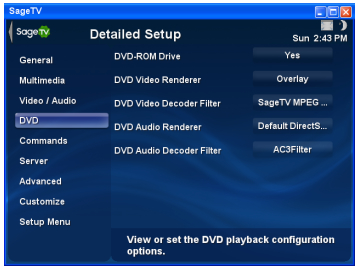 Using Existing DVD Player Software With SageTV
Perhaps the most important feature to consider is DVD playback. Although SageTV includes all the necessary features to play DVDs, it lacks a CSS license. In order to play standard commercial DVDs with CSS encryption and Macrovision I had to configure DVD playback to use the WinDVD decoder (also used by Windows Media Center).
I found audio to be somewhat more complicated. While Windows Media Center provides full 5.1 channel passthrough using the WinDVD audio decoder, I found that SageTV wasn't able to do the same. However, this was easily fixed by installing AC3Filter
2
.
Audio Formats
Perhaps the most surprising thing about SageTV was its lack of CD playback. I was eventually able to figure out how to add this (via a plugin found on the official SageTV forum), but I'm still confused as to why this isn't a standard feature. With no CD playback, naturally there's no CD ripping either. I actually don't mind this as I prefer to rip my CDs with Exact Audio Copy, and compress them with the FLAC codec, which SageTV supports. Eventually I plan to re-rip all my CDs to FLAC files, and completely eliminate the WMA versions ripped by Windows Media Center.
Playing DRM-Crippled Music
One issue for me initially was the lack of support for the (Microsoft) DRM used by the SpiralFrog
4
online music service. I was still able to use Windows Media Player to play my downloaded files, but with no connection between SageTV and WMP there's no native support for it. After a little reading and a painless installation process I installed a plugin called SageWMP that uses Windows Media Player for all my WMA files. It also adds CD playback to the main SageTV interface.
Overall Impressions
Installation went quickly, and despite a large number of configuration screens took only a few minutes. However, I did find myself still fine tuning settings for a while, including finding the plugin to add the CD player/WMA plugin. None of it was difficult, but don't be surprised if final configuration is complete in hours or days rather than minutes.
---

In our guide on resizing from the rectangular pixels used for DVD to square pixels for display on a TV you'll find instructions for determining the active picture area. Evaluating my TV I found that the effective resolution (with a 640x480 signal) was 588x480. Read More
(Return)
AC3Filter is an open source solution for
Dolby Digital, DTS, and MPEG Audio support in Windows. Although installation is relatively simple and straight forward, you can find detailed instructions in our guide titled AC3Filter Installation and Configuration
(Return)
ffdshow is a DirectShow decoding filter for playing several video formats, including DivX, XviD, WMV, MPEG-1 and MPEG-2 movies. You can find detailed instructions for installation and configuration of ffdshow's video and audio decoding features in our guide for ffdshow Installation and Configuration.
(Return)
In September a new online music service called SpiralFrog debuted, offering U.S. and Canadian residents free downloads, paid for by ads viewed when browsing their website and downloading music. The company already offers 1 million songs in their catalog. In addition to songs they have more than 3,500 music videos available for download and streaming - also for free.... (Read More)
(Return)