Running SageTV
As a Windows Media Center uer you may be somewhat disoriented by SageTV's interface initially. In terms of media center functions you need to think in terms of playlists. Starting with a Now Playing queue, to which additional files can be added. Rather than automatically playing a file when you select it with your remote you're presented with a list of options to play it immediately, add it to the current playback queue, or add it to a new or existing playlist. Media can be organized in a number of ways, including options for how many items to display on the screen at one time.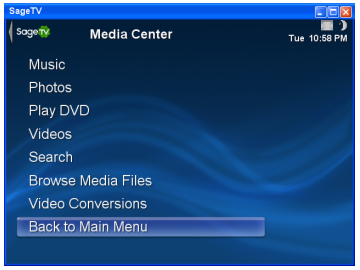 The Main Menu
From the main SageTV menu you can go directly to live or recorded TV viewing, the Media Center, Online Services, or the Setup menu. Since I don't use SageTV as a DVR and I've already covered the important points of configuration I'll concentrate on the Media Center and Online Services.
Media Center
For me at least, this is the heart of SageTV. It's a sort of movie and music jukebox, with various ways of organizing content. Since most people use a HTPC primarily for video we'll start there.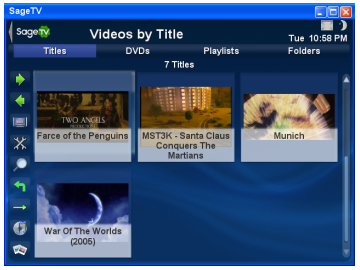 Videos
The Videos menu gives you access to video in SageTV's import directories. You'll notice that there are several tabs above the list of videos as well as buttons to the left. Use the arrow keys on your MCE remote to navigated between videos. You can get to the buttons and tabs by navigating off the list (go to the left side of the list and use the remote's left arrow button). Using the (chapter) Skip and Replay buttons you can navigate between tabs.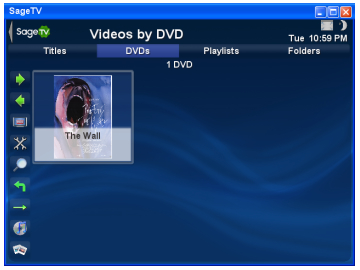 DVD Tab
The DVD tab shows you a list of DVD movies in your import directories. In order to appear in this tab the DVD must be ripped to your hard drive, and the files kept in a VIDEO_TS folder like on the original disc. The title displayed in SageTV will be taken from the name of the folder containing the VIDEO_TS folder and related DVD files.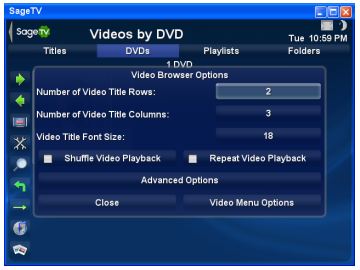 Display Options
The number of both rows and columns displayed can be changed, as can the font used for titles.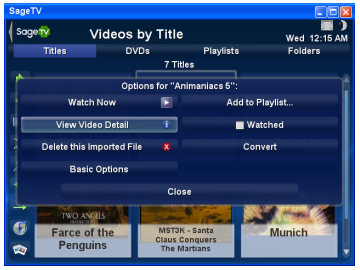 Playing Videos
Highlighted videos (or DVDs) can be played by pressing the Play button. Alternatively you can use the OK button to see the options menu for the video. On the Options menu you can get more information about the video, add it to a playlist, play it.
Music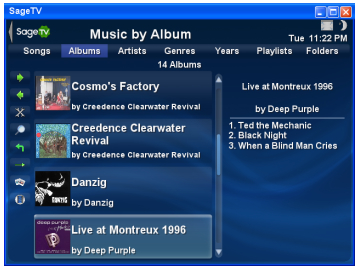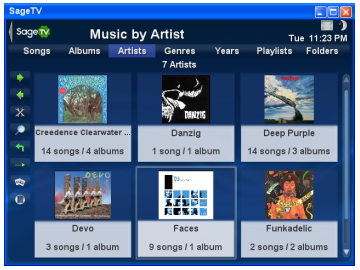 Music is organized in various tabs by song, album, artist, genre, and year. SageTV can read tags in all common audio file formats, including the cover images embedded in FLAC files. For files with no cover art embedded in them a special JPEG file named folder.jpg can be put in each album's folder. SageTV will use this as the cover art for each song in the folder.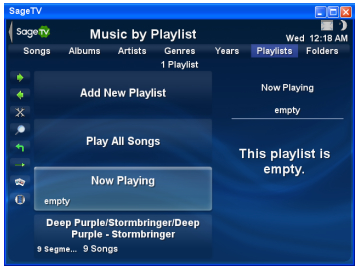 Playlists
Audio playback in SageTV is best thought of in terms of playlists. A Now Playing playlist, also referred to in some dialogs as the Now Playing Queue, is just that; a playlist of songs queued for playback. If a song is playing, or there are items in the Now Playing Queue pressing the Play button on your remote will add the selected song to the queue. You can also add it to your own playlists by pressing the OK button on your remote instead to bring up the Options dialog. You can also interrupt the Now Playing playlist (and empty it) by selecting a Play Now option.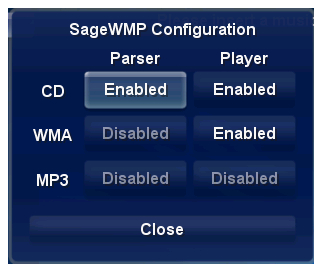 Using SageWMP
Although SageTV doesn't include a CD player or support for DRM protected Windows Media Audio (WMA) files, I found a plugin called SageWMP that adds both features by using Windows Media Player. This was particularly important for my wife, who was used to Windows Media Centers CD player feature. It would be nice to see CD ripping (and FLAC encoding) added as well, but I don't mind using my workstation for that.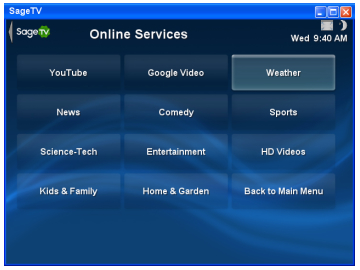 Online Services
In addition to multimedia playback, SageTV gives you access to fairly wide variety of online content from YouTube, Google, and a number of traditional TV outlets. There are weather forecasts from the Weather Channel, as well as video clips from news and sports outlets, comedy from HBO and Comedy Central, and kids' content from Nickelodeon.
---
Is It Worth the Time and Money?
If you'd like to upgrade your older version of Windows XP MCE to run Windows Media Player 11 without losing the Media Center functionality SageTV is an excellent choice. After an initial adjustment period I've become very comfortable with the interface, and I like its support of open source formats like FLAC. There are even a number of customizations you can download (for free) that give the interface a more "modern" look, similar to Windows Media Center.
Despite my enthusiasm over SageTV, I have to admit my wife has been less excited about it. In fact, after learning the Windows Media Center interface she really doesn't want to learn a new piece of software. When she does occasionally need to play something she has no problems learning, but like most people she prefers to learn one program and stick with it. Even if you won't have any problems adjusting to SageTV you should make sure to find out what other people who may need to use it think about the change.
Version History
v1.0
2008.03.26 Original version by
Rich "vurbal" Fiscus