Ripping DVD video files into MP3 for playback on media devices
Introduction

In this quick guide you will learn how to make an MP3 file from DVD video files of concert DVDs or any DVD for that matter. The MP3 can later be played back on your PC or on portable media players. For the guide we will be using two simple freeware programs. The first program is called Free DVD to MP3 ripper. Afterwards we will be combining the MP3 files made into one large MP3 file using MakeitOne MP3 Album Maker.
Note
: It is very important to note that we will not be going into the ripping portion of this guide as the
AfterDawn
administration complies with Finnish Copyright Laws that went into effect on 1 January, 2006. For more information please see this link ->
http://www.afterdawn.com/guides/archive/afterdawn_guides_copyright_law.cfm
. For this guide you will need to previously have the DVD ripped into a
VIDEO_TS
folder or at least separate
VOB
files.
Requirements
Free DVD to MP3 ripper
- You can download the program here, from the official developer's site. This is the site that will be converting the video files into MP3s.
MakeitOne MP3 Album Maker
- This program will allow you to take the MP3s made and convert them into one larger, fluid MP3 that can still be played on any device of your choosing.
The
VIDEO_TS
folder or separate
VOB
files that you would like to rip the MP3 stream from.
Enough HDD space to hold the original VOB files and the MP3 file being made.
Getting Started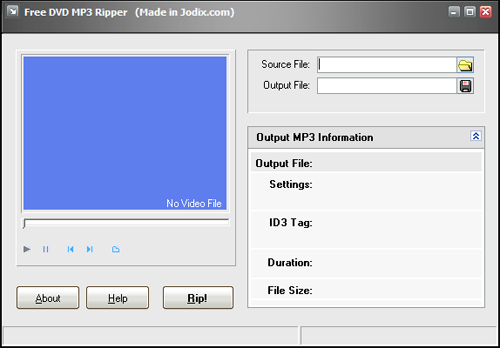 Ok, so to get started download and install both programs. Open up
Free DVD to MP3 ripper
and check out the interface for a moment. It should be pretty straightforward :)

Navigate to
Source File
in the top right corner and hit the browse button to the right (the small folder). From there navigate to the files you want to rip the MP3 from. For my example I am using a full VIDEO_TS folder that has 4 separate VOB files in it. We will not be using the VIDEO_TS VOB file but the other three (they have large file sizes) are video data and we will be using them.
Select the first video file (for me it is
VTS_01_1
) and hit
Open
.
Note:
I seem to always receive an error of some sort when the file itself opens but the operation completes regardless. Perhaps it is some type of bug because I am using
Vista
.
On the next page, we will go over how to change all the settings before getting to the actual ripping part of the process