TSUNAMI MPEG DVD Author Pro Guide

This is a guide to using the
TSUNAMI MPEG DVD Author Pro
software title from
TMPG Inc
. This guide will show you everything from the beginning, inputting your files, to outputting them. We will take a close look at the supported input files for movie streams and also create a basic slideshow to add to the DVD. We will also take a look at the excellent Menu creation and editing capabilities of this program.
Introduction & Requirements

TSUNAMI MPEG DVD Author Pro
- To follow the guide you need to download and install the software.
Before we delve into the program, it is very important that we have a look at the minimum system requirements and recommendations for running this program, and also the supported input file formats.
Minimum / Recommended System Requirements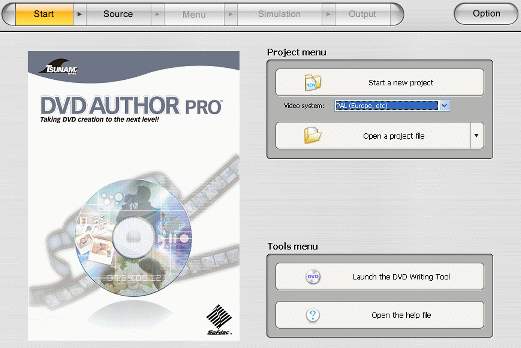 Operating System
: Microsoft Windows 2000/XP.
Minimum CPU
: Intel Pentium 4 2 Ghz, AMD Athlon XP 2000+ or higher.
Minimum RAM
: 512 MB (1024 MB recommended)
HDD
: 512 MB (10 GB or more recommended).
Screen Resolution
: 1024x768
File System
: NTFS.
Supported Input File Formats
Here are the specifications that must be met for the input files you intend to use with TSUNAMI MPEG DVD Author Pro.
MPEG-1 System Stream or Elementary Stream
:
MPEG-2 Program Stream or Elementary Stream:
Resolutions: 352x240(NTSC), 352x480(NTSC), 704x480 (NTSC), 720x480 (NTSC), 352x288 (PAL), 352x576 (PAL), 704x576 (PAL), 720x576 (PAL).

Aspect Ratio: 4:3, 16:9.

Max Bitrate: 9848 Kbps.
Supported Input Audio Formats:
Other Input Formats:
Images: JPEG, PNG, PSD, BMP.

Alternative: DVD-Video (VIDEO_TS.ifo), VRO, DVR-MS.
Now with all that out of the way we can have a look at the interface of the program and the preferences.