Clip Settings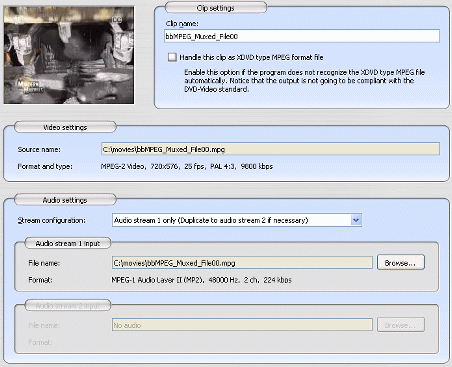 Here's a look at the settings you can edit in the
Clip Settings
window after you have added a clip to a track.
The clip name can be changed to whatever the user wants for easier editing later on. You can input two supported audio streams in DVD Author Pro.
There is also
Bi-Audio
options, where a single stereo stream could be divided to two separate audio streams (this was often used to make discs with two languages, a language on each channel).
So it looks easy right? But what about extra editing?
Cut-edit and Chaptering

Here are the basic buttons for editing a clip and adding chapters. As you can see, cutting is done at the frame level, for precise perfect cuts. You can set a start frame for the clip and an end frame (meaning only this portion of the clip will end up on the DVD).
You can also use the cut button to completely remove a selected part of the clip. These are exactly the kind of cutting and chaptering tools that professionals want. It gives you so much more control over your output. As you can see, there is also an
Audio filters
button here.
Smart Audio Filters
DVD Author Pro wants to ensure that you get the best output quality possible. However, the output always depends on the input so
TMPG Inc.
has included a set of filters for the audio that can help ensure you have the best sounding audio, the way you want it on DVD.
Audio Gap
,
Noise and time tone
,
Volume correction
and
Fade-in/out
effects are all included in your audio filters. This can be excellent for audio that you have captured.
Also, as an added bonus, you don't have to wait until the end of the process to hear what the new filtered audio is going to sound like, there is also an
Audio filter preview
button. So it has some nice editing features for audio and video, now lets take a look at adding a Slideshow.
Slideshow Creation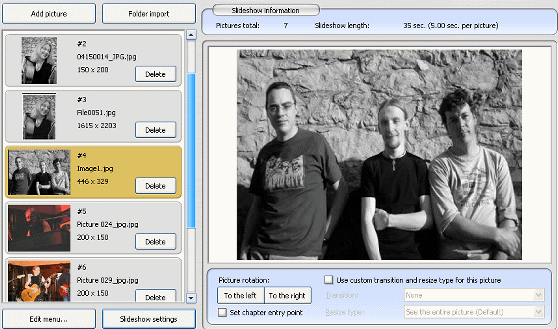 You can create a pretty impressive slideshow with DVD Author Pro. You can import files (
BMP
,
JPEG
,
PNG
or
PSD
) or complete folders full of images. You can set
transition effects
for all images, or just for individual images.
You can do some basic extra tricks too like rotating the pictures clockwise or counterclockwise. Any picture can be set as a chapter. You can elect a birate from
3000-9000 kbps
for the slideshow.
While there are other software titles available to create to create more impressive slideshows, DVD Author Pro has added this in here as an extra bonus and considering all the extra things DVD Author Pro can do, price-wise it just about beats all the other options down.