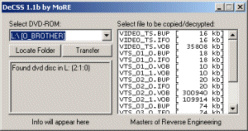 The U.S. Supreme Court reversed an earlier temporary hold on a case involving DVD descrambling on Friday. The stay was initially requested by
DVD CCA
to prevent
DeCSS sourcecode
from being posted on the Web again. The U.S. Supreme Court upheld a California Supreme Court decision ruling that the entertainment industry cannot force a Texas resident who published a software program on the Internet to stand trial in California.
The California Supreme Court decided on November 25, 2002, that
Matthew Pavlovich
, who republished an open source DVD-descrambling software program called
DeCSS
, will not have to defend a trade secret lawsuit simply because he knew that his publication could cause "general effects" on the motion picture and technology industries in California. The court laid out clear jurisdiction rules for claims arising from publishing information on the Internet.
"
The entertainment companies should stop pretending that DeCSS is a secret,
" said
EFF Legal Director Cindy Cohn
. "
The Supreme Court wisely recognized that there is no need for an emergency stay to prevent Mr. Pavlovich from publishing DeCSS.
"
The Pavlovich decision is one piece of a larger legal struggle over Internet publication of DeCSS by thousands of individuals in fall 1999. European open source developers created DeCSS so they could play their DVDs on Linux computers among other uses.
DVD CCA
, the sole licensing entity for a DVD-scrambling technology called CSS, sued hundreds of named and unnamed individuals and entities in the case on December 27, 1999.
Allon Levy
, an attorney with San Jose's
Hopkins and Carley
, represented of Pavlovich pro bono with support from the
Electronic Frontier Foundation (EFF)
.
The decision also impacts the numerous other defendants named or served in the legal struggle, all but one of whom are located outside California. The appeal of the preliminary injunction entered against the sole California resident named in the case,
Andrew Bunner
, is awaiting an argument date before the California Supreme Court.
DeCSS is free software that allows people to play DVDs without technological restrictions, such as region codes and forced watching of commercials imposed by movie studios.
Norwegian teenager
Jon Johansen
originally published DeCSS on the Internet in October 1999. Under pressure from Hollywood, he is still facing criminal prosecution in Norway.
Source:
EFF