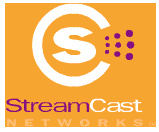 The file sharing P2P-technology companies are struggling to turn their popularity into a good business. And of course there are the legal problems as well.
Personally I wonder when will the Direct Connect get more attention? It still seems that media focuses on Kazaa and perhpas GNUTella variants.
Outgoing executive Steve Griffin had headed the company throughout its years-long incarnation as one of the most popular file-trading software companies on the Net. The company's terse statement gave no indication as to why he was leaving, but said it would continue operating.

"StreamCast Networks is currently in the process of selecting the best candidate to take StreamCast and…Morpheus, to the next level," the company said in a statement. "In the interim, StreamCast's executive team is running the company operations and remains firmly committed to producing superior P2P software products like Morpheus."
CNET News.com