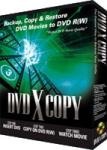 A survey carried out by
321 Studios
, the company behind
DVD X Copy
DVD backup system listed
Lord of the Rings: The Fellowship of the Ring Collectors Box Set
as the top limited edition DVD.
Of the 1,009 respondents 45 percent chose the FOTR box set as the #1 limited edition set.
The Matrix Platinum Limited Edition
was the favourite out-of-print DVD for 30 percent, and
Spider Man Limited Edition DVD Collector's Set
for 13 percent of respondents.
"
Limited edition DVDs are valuable investments and the treasured property of collectors. Consumers have a right to protect their irreplaceable DVDs. DVDs can easily get lost, stolen, scratched, broken or damaged by heat," said Robert Moore, president of 321 Studios. "In the event that these priceless pieces of their DVD libraries are harmed, backup copies can protect their investments."

Source:
Yahoo! News