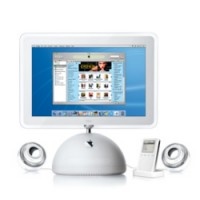 Who ever said you can't sell music on-line and make a profit obviously forgot to mention that to Steve Jobs.
Apple's iTunes on-line music store
has sold over
2 million songs
after its launch only 16 days ago.
Internet.com writes:
"
At 99-cents a song or between $4 and $18 for an album, Apple is beginning to see a hefty profit. The company has yet to disclose how much its profit is being offset by the hosting costs or the reported 60 percent cut that goes to the labels. Still using rough estimates, Apple just made an estimated $2.3 million in a week and upwards of $5 million in the last two weeks based solely on its iTunes service.
"
Well done, Apple! Maybe
RIAA
, and music labels should learn from them and focus their efforts on bringing similar music services to PC-users as well, instead of wasting their money on trying to force people out of the habit of sharing their music. Is there an alternative for us, the PC-users, if we want to listen to MP3s? I'd say: no, we don't. If I can't rip my CD to MP3 format due to a copy protection scheme, I turn to one of the numerous peer-to-peer networks that are at my disposal. Given the choice, I'd rather purchase and download albums in MP3 format, and burn an audio CD should I need one.
Apple will be releasing a PC-version of iTunes by the end of 2003.
Source:
Internet.com