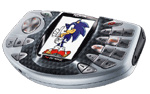 The mobile phone giant makes a move to acquire more gaming industry expertise and technology. Sega.com Inc is a daughter company of the Sega Corporation. The company concentrates in developing multi player platform technology - The Sega Network Application Package (SNAP).
Sega was already on of the game producer to support Nokia N-Gage hand held console in the first stage of product launch. This deal strengthens Nokia's position and status in the gaming market significantly, in addition to providing Nokia with Sega.com's technology.
"At the moment online and mobile gaming are the hottest trends in the gaming industry. This was a logical step to bring online elements to mobile gaming.
...
Sega.com Inc has developed a working platform, which combined with the N-Gage console will give the players whole new possibilities and experiences."- Ilkka Airaksinen, the manager of Nokia Entertainment and Media Business unit.
Digitoday.fi