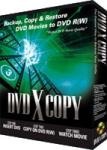 The legal fight between
321 Studios
and the major Hollywood studios has expanded to Europe.
Warner Home Video
(part of AOL TimeWarner media giant)
has decided to sue 321 Studios' European arm,
321 Studios Europe
, in the UK.
Warner
(being supported and pushed by the MPAA)
is seeking an injunction against
HRC Distribution Limited
and 321 Studios Europe to prevent the sale and distribution of 321 Studios' products, such as
DVD X Copy
and
DVD X Copy XPRESS
, that allow backing up DVD-Video discs to DVD-/+R discs.
This is the first major case in the EU that involves DVD decrypting tools and its timing is somewhat weird, since the
EUCD
law, which would clearly make any distribution of DVD decrypting tools, is not implemented in most European countries yet.
More information:

BBC
Telegraph