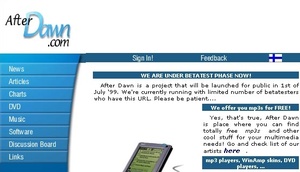 In our article series, we're digging into AfterDawn's news archive and looking what happened exactly 20 years ago. This article series also celebrates AfterDawn's 20th anniversary.

So, we're digging into our news archive and trying to figure out what was hot and what was not, back in November, 1999 when our site was only four months old. I'd like to remind you, our readers, that back then, AfterDawn was strictly focused on digital audio and video technologies and reporting events in those genres. More generic "all about tech" arrived to our site much later.


New file sharing software pop up almost daily
As
Napster
has grabbed the headlines across the world, competitors appear on almost daily basis to take a slice of the growing file sharing business. Legal or not, there's a goldrush among software developers those days, hoping that somehow, file sharing would be deemed legal and one of the players would emerge out of the wars as the winner.
In our news back in November, 1999, we covered several software releases related to file sharing software. One of the strongest players back then was
CuteMX
. Software itself didn't live for very long, as the developers decided to call it quits after Napster's troubles with the law started to grow. But for a very short time, back then, it was considered as the top contender to Napster - superior technically in many ways.
Read more...
---