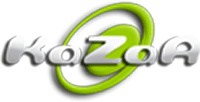 Australian independent record laebl
301 Records
, and
Sharman Networks
, the makers of peer-to-peer file sharing software
Kazaa Media Desktop
, announced a digital promotion deal on Wednesday. With the deal 301 Records promotes one of their bands through Kazaa.
The content from the band,
The Honey Palace
will be made available for purchase through Sharman's affiliate partner Altnet. Kazaa users can sample the video and audio content through Kazaa Media Desktop, and purchase songs for just US25 cents per track.
Altnet offers a secure way to offer content via a P2P network. The Altnet files appear as gold icon files in the Kazaa Media Desktop search results and can be easily purchased using Altnet's seamless payment gateway.
Michael Browning, Managing Director of 301 Records, said: "
We're always looking for innovative ways to launch artists into both local and international markets. Peer to peer technology provides artists and distributors with a low cost, high impact way of reaching millions of global music fans.
"
Source:
301 Records Press Release