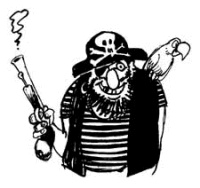 Australian ISP
ComCen
has agreed not to re-post any contents to web site under the url
www.mp3s4free.net
. ComCen and record labels agreed on the arrangement on Tuesday in the Federal Court in Sydney.
The site, which offered links to pirated MP3 files, was removed from the Net yesterday by the site's owner,
Stephen Cooper
. According to Cooper he didn't have enough financial resources to fight the case to the end. ComCen had refused to take the site offline in spite of legal threats from the music industry.
Both Cooper and ComCen were sued last week by major labels alleging that www.mp3s4free.net violated their copyrights. The site, however, contained nothing but links to files -- none of the illegal files were hosted at ComCen or posted by Cooper. Both Cooper and ComCen insisted that the site was just a directory.
The nature of linking directly to third party files has been a matter of debate for ages. Is it illegal to provide links to pirated material? Would a database of user submitted URLs be illegal, if the only intention of the database was to gather links to copyrighted music? Morally the question is clear, but the legal aspects are far more complicated.
Source:
ZDNet Australia